Bateau (Boat) Neck Basics
15 minutes
No matter what your skill level Bateau (or boat neck) sweaters are a fun to knit, easy to wear style.
Included with this Home Study Course is the Knit it Now pattern that can be used over and over and has lots of options to make this style your own! As a bonus there is a video walk through of using the pattern revealing all the hidden tips and special features of this special Dynamic Pattern.
In addition we've included a checklist of all the options you have when knitting the style, as well as a simple charting guide. Brush up on your drafting and charting skills by creating a pattern for a doll, a child or yourself!
15 minutes
GOALS OF THIS COURSE:
After completing this course, you will be able to:
Knit a boat Neck Sweater that is custom fit and includes your own creative touches ... with NO MATH
Chart this style sweater in any size.
Boat Neck Choices
Curvy or straight body, shaped or plain neckline, butted, square or lapped neckline .... make your Boat Neck Beauty your own.

Charting your own Boat Neck Sweater
Brush up on your drafting/charting skills and create a boat neck sweater that fits perfectly and has the designer touches you want.
Video: Knitting the Boat Neck Beauty
Simple knitting, lots of choices make for a fun project. Walk through the Knit it Now Dynamic pattern for a basic boat-neck and make it your own
Purchase This Home Study Course
Price: $12.99
This course is
FREE
with a yearly subscription to Knit It Now
Subscribe Today
8 paged study guide included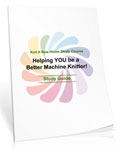 Receive access to the Home Study Guide and all Bonus Materials with the purchase of this course.
This course includes the dynamic pattern
Boat Neck Beauty