Marianne Henio - Henio Designs
Where are you based?
I am based in Wolverhampton which is in the West Midlands, UK. I have moved around a little over the years spending many years in Staffordshire, a short while in Cornwall, but eventually ending up back to my place of birth - less than 2 miles away to be exact!
Tell us a bit about your career history.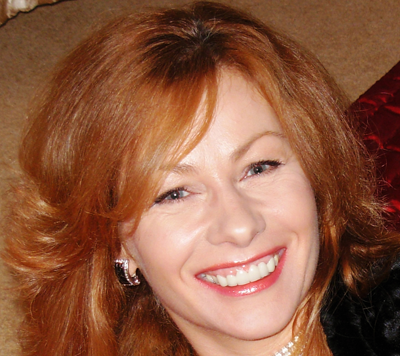 After school education I went on to further education and gained business studies qualifications. Since then I have always wanted to run my own business. This was compounded by the fact that my first career as a police officer made me realise even more that I wanted to work for myself! I left the police force after 4 years to start a family. It wasn't long before I swapped my knitting needles for a knitting machine. Still pregnant, and knitting numerous baby garments, I very quickly realised that a knitting machine was a much faster option, aiding me in the fact that I like projects to be completed as quickly as possible. My husband at the time was a police officer in the firearms squad. He asked me to knit him a suitable sweater for his firearms training. I knitted a pure wool, navy sweater with the firearm unit's logo on the front, and added leather elbow patches to save the wear and tear on the elbows that came with the job. No sooner had he worn it to work for the first time, I was inundated with orders! A little later on, and a little sick of navy jumpers, I spotted that my machine could offer me a wonderful opportunity to work for myself, and this would enable me to be a stay at home Mum at the same time. So my business began. I won't say that the rest is history because that would be far from it! A divorce, and nearly 20 years as a single Mum meant that when times were hard (as they usually were) the knitting machine had to be put aside for another choice of career which offered more ready cash. Career after career, always the optimist in thinking that the next one would be enjoyable, proved to me that I was right in the first place. A break from careers to go back to university when I was 29 was the most enjoyable 3 years after which I gained a Degree in the History of Art & Design. I continued to study for my Masters which was in the History of European Design, but unfortunately I had to do this whilst working full time for financial reasons which meant that it seemed more like hard work than pleasure. But I gained a lot from it all the same, as well as a Masters. When my son, Ken left home at 21 to join the GB rowing squad, and became successful in his own right, I knew that the path that I had started out on all those years ago was the one for me and that I had to somehow get back on track and follow my passion.
Tell us a bit about your family and home.
I now live alone which suits me just fine at the moment. Ken, my son, lives in Reading which is 130 miles away and means I don't get to see him as often as a Mum would like. My Mum, however, only lives a couple of miles from me, so this is very convenient. I have a sister in Manchester and 3 cousins in the UK. That is pretty much my family in this country. My Dad was Polish and lost track of his family at the age of 16 when WW2 began and he joined the Polish Underground. I have made attempts to search for my Polish heritage but with no joy so far. The Henio name is all that remains - Henio being Henryk (my Dad's name) for short in Polish.
When did you begin machine knitting?
Well, my son is now 30. So 30 years ago plus a few months ?
How did you learn?
I can't exactly remember how I first came across the knowledge that such a thing as a knitting machine existed. But I sure am glad that I did. I am mostly self-taught. I did have a couple of lessons back in the early days when I had a machine knitting shop just a mile from my house - a convenience which we don't often get nowadays. The owners were wonderful people - always at the ready to share their knowledge and offer tips and advice. This is one thing that hasn't changed with hand and machine knitters between then and now.
Have you ever been in business for yourself related to your knitting?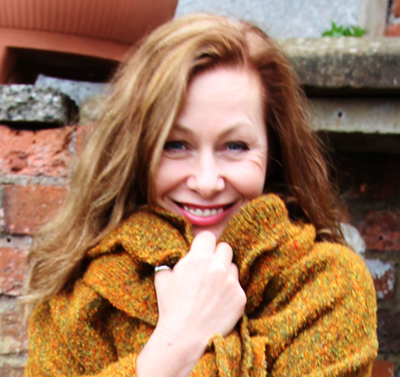 Yes. My knitwear business started off as a 'work from home, supply to friends and family' business. I then went on to do 'Party Plan' with my designs. A list of clientele grew and I offered a bespoke service. The next step I felt at the time was to move into retail premises and sell my knits to the public. Unfortunately, this turned into a disaster as I chose a very poor location for my shop with virtually no footfall. Financial chaos, followed by divorce, meant that my career as a designer was to be put on hold for a while. It was only relatively recently that I had the opportunity to get back into following my dream as a business venture and I threw myself into it headfirst. I have worked incredibly long hours, and still do, to get my business to where it is now. In fact, I made myself very ill in the process. (I'm ok now ?. ) There is still a long way to go, but I now have a business partner, a limited company, I have goals and future business plans set out, and I know where I am heading.
If so, tell us about your business.
I wrote my first book (not related to knitting) a number of years ago and published it myself. In the process, I learned a lot about self publishing. My business now combines the skills that I have acquired over the years in knitting, knitwear design, writing, self publishing, IT, and marketing. The main core of my business at the moment is the publication of my designs as knitwear patterns - both for hand and machine knitting. The patterns are all sold digitally through various online outlets and this is growing slowly, but surely. I work on a daily basis with an audience on social media that I love and adore, and also gain a lot from being involved with their experience and wisdom. The knitting world can be a very friendly and supportive place which is an aspect of my current business that I find truly inspirational. The second arm of my business is at the thinking stage at the moment, but all will be revealed as time goes on.
Have you ever/do you belong to any craft clubs
No I haven't actually. I have had the opportunity to speak to groups about my work and I have met some wonderful people through this aspect of my business. However, my working day is so long and busy that I hardly have time to fit everything in. This is probably the main reason for not joining any groups along the way.
What other crafts do you enjoy?
I have dabbled in furniture restoration which I love. In my next life I will be an antiques dealer and restorer. If I had the time in this life that would be my second craft.>
Are you a hand knitter too?
Definitely. Both hand and machine knitting are my business. Both I love. They tend to occupy different parts of my life - the hand knitting being my therapy in the evenings after a hard day's work. But at the same time, I am designing and knitting up hand knits so it all fits in perfectly. Never a moment wasted! I also have a small team of hand knitters to help me...I love them all. Because hand knitting is a more time consuming craft, this is a necessary part of my business.
What machines have you got? And which is your favourite and why?
I only have 1 machine - A Brother KH891 and ribber. I could get totally carried away with more machines and attachments, some of which I would love, but then I wouldn't be so efficient. My designs are based on 'chicness', simplicity and ease. This suits me at the moment and stems back to those days when I just wanted to get those baby knits finished! I hope that my basic and simple patterns and style also fulfil a similar need for other knitters too. I am never out of ideas. In fact, I still do not have enough time in the day to achieve all the knits that are in my head...so to speak!
What do you like to knit the most?
Oo! That's difficult. I enjoy both hand and machine knitting equally - even though for different reasons. I think recently I have gained an enormous amount of pleasure out of knitweave on my machine. Not so much the process, as it can be a little slow and tedious, and is open to lots of mishaps (depending on choice of yarn), but for the results. I have had 3 successively satisfying results with my Henio Jackets and the recent Bellissima Jacket which I love. On the hand knitting front, I have just completed a month long project of a cable shawl. I am going to combine this with a knitweave skirt and a machine knit top. All are designed and ready to be knit in anticipation of another Christmas project - combining hand and machine knitting. For me, this is a project of sheer joy.
Tell us something about your designs and your work.
At the moment, as my business is relatively new, I wear all the hats. As time goes on, some more delegation will take place and the hats will be passed on. The first move that we made was to delegate the design of my new website out to professionals (I designed and built the first one myself). I also took on a model instead of modelling my own designs. My favourite part of my work is the design process. I am inspired by so many things around me on a daily basis, and my head is always full of projects. I love the process of designing and knitting these projects. Unfortunately, time doesn't allow enough of this at the moment. The next part of the process is the production of the patterns, the publication and then the marketing. This is extremely time-consuming; especially since I have started publishing sizes XS to XXL! Further down the line more delegation will take place! My designs are intended to be simple enough for any knitter to contemplate. They are chic and timeless, and I hope that I cover all ages and tastes in one way or another with my designs. The pattern publication market is different to the bespoke knitwear market. I try to aim my patterns at knitters who may be knitting either for themselves or others. A wide range of styles is essential.
Which are your favourite yarns?
There are plenty! I reckon my most used yarn is Yeoman Supersheen. I love its versatility. I also love the texture of boucle, although it can be a pain to knit with sometimes! I adore cotton in all thicknesses. I love chenille! Wool is not a favourite I'm afraid as I am allergic to it and can't knit with it, never mind wearing it. I do love to see my patterns knitted in fine wool yarns though! Tell us a bit about your knitwear wardrobe. My knitwear wardrobe is minimal! I knit so many garments and yet I get to keep so few! They are normally sold. Sometimes I look into my wardrobe for a piece of knitwear to go with a specific garment and there is nothing to match! This does inspire me with yet another pattern idea...but is no good at the time when I could do with something to wear there and then!
Where is your business heading?
My knitwear patterns are being sold from an increasing number of online outlets. They are being translated for the German machine knitting market too which is fabulous. I would like the hand knitting patterns side of my business to expand further into that market and I am continually working on this. I love the machine knitting market and do all I can to keep in there and up to date with demands and preferences. There are so many ways that I would like to progress with this business. Ultimately though, I would like to be in a position whereby I am spending the majority of my time in the design and knitting process. This will come I know. It will just take a lot more hard work, time, ideas and perseverance. In the meantime, I love what I am doing and where I am heading, and I count my blessings every day that I am fortunate enough to be working with my passion.
Thank you for sharing your story Marianne! You are an inspiration to all machine knitters