Follow Knit it Now on
Follow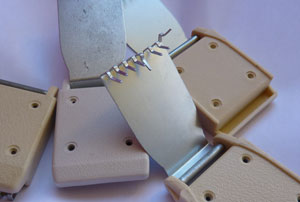 Take care of your tools so they will take care of you
When I was a girl, my Dad impressed on me the importance of taking care of tools.
Machine knitting is such a messy craft. Even if you haven't acquired ALL of the toys, a basic machine setup has lots of pieces and parts.
Make a home for your claw weights
Hang a knitted swatch from your stand or table to
keep your knitting machine claw weights (and ribber weights) close at hand
and to keep the teeth from getting bent.
Anywhere close by and out of the way will do.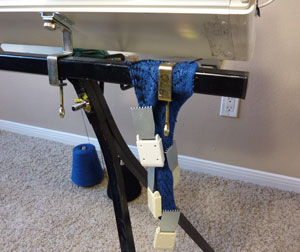 Get in the habit of hanging your weights in the swatch instead of tossing them in a drawer or behind your machine.
---
You must be logged in to add your comments
3 COMMENTS
I have a plastic box with clip lid to store my weights and bar. Spare needles and latch and transfer tools are in a cloth tool roll with pouches that they fit in nicely and rolled. Then placed in a square tool bag . It's just grab and go when I take my convertible KH400 anywhere.
---
I have an empty icecreambox for my clawweights and laceweights. Working in a guestroom i use a bed close behind me to have my open ribberbox and everything i need, by hand.
---
---