Fearless Cut 'n Sew
Why Cut 'n Sew
Why Cut 'n Sew?
As machine knitters we can create raw knitted "fabric" fairly quickly. Thinking of our knitting as fabric opens new possibilities for creating garments.
Create your own knitted fabric
No shaping - many knitters are intimidated by necklines (or they don't want to take the time to shape them)
Shaping while knitting in pattern can be a challenge and time consuming cut 'n sew eliminates shaping on the machine
Use sewing patterns for fabulous, updated garment styles
Alter / resize / remake existing garments to fit
The biggest challenges to Cut 'n Sew?
Getting over the fear of cutting your knitting
Creating templates or finding patterns
Stabilizing the fabric
Finishing the edges and adding bands
Introduction to Cut 'n Sew
The Cut 'n Sew method of shaping is very useful for machine knitters.
Don't like to shape necklines? Use cut 'n sew!
Knitting in pattern, or lace? Who wants to be shaping and doing hand manipulation at the same time? Use cut 'n sew!
Prefer to knit yardage, then use a sewing pattern to create your garment? You are using cut 'n sew!
The techniques shown can be used for other shaped edges as well. For example, match a shaped armhole to a cut 'n sew armhole on a vest.
Industrial Band
Beautiful on both sides, this 2 piece band can be used on any edge. Perfect for enclosing cut'n sew edges, it can also be used for button bands.

Lots of finishing options make it a go-to for all machine knitters
All the difference ....
We recently explored using stabilizers to improve our cut 'n sew skills … and we were pleasantly surprised!
Watch as we learn 3 Cut 'n Sew lessons:
Easier Sewing
More precise shaping
Wash-away stabilizer really washes away!
EZ Neckline Templates with DesignaKnit
Use DesignaKnit to create templates for Cut 'n Sew.

Use a little-known feature of DAK to make quick work of creating a personalized neckline template you can use again and again.
Knit it Now Printable Templates
Printable templates for cut 'n sew necklines.
From infant to adult size
Neck depths up to 7" (18cm)
Both Letter (US) and A4 (Metric) versions are included
Create a perfectly shaped neckline every time!
Cut 'n Sew necklines are easy and fast!
The Steps:
Knit your garment with no neckline shaping.
Select a template for the desired neckline width and depth.
Use the template to mark the shape
Machine stitch along the marks to secure the edge
Cut your neck opening
Use an "industrial" band to neatly hide the cut edges.
No shaping as you knit!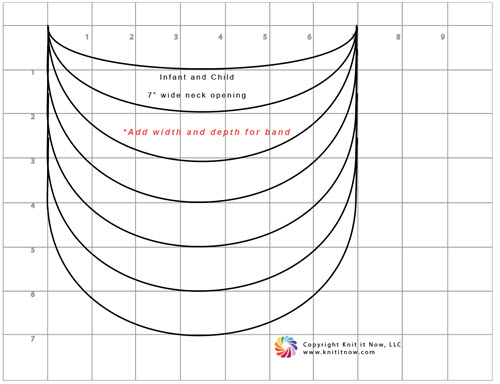 Industrial Band Variations
Building on the Basic Industrial band, these variations are sure to get your creative juices flowing.
One-Piece Neckband Perfection
There are many methods for finishing necklines
Here are 2 band techniques that can be used for shaped or
cut 'n sew necklines
.
Add a professional finish to your next project.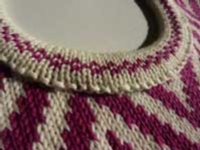 Amazing Reversible Band
Faux Garter Band
Here's an unusual neck band technique that is great for highly textured stitch patterns like garter carriage and tuck stitch.

Use reverse stockinette stitch for the public side of the bands.br>
This is a version of an industrial band - sometimes called a sandwich band that is perfect for cut and sew necklines. The technique can also be applied to shaped necklines.br>
If you are used to working this style of band in stockinette, this video works through the construction using the purl side of the bands as the public side. br>
Put on your thinking caps! Keeping things straight can be a challenge - right/wrong side, purl/knit side, public/private .. take it step by step for a beautiful faux garter band on the machine.
Christmas Tree Skirt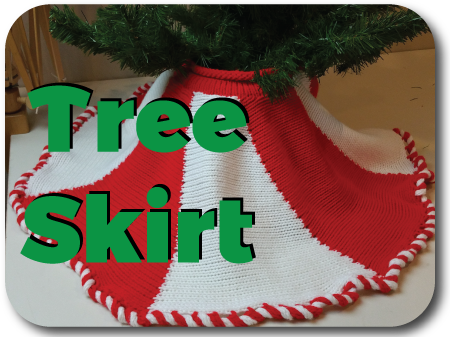 Purchase This Home Study Course
Price: $29.95
Become a subscriber today and
save 15%
on this course
Fast finishing, accurate size for the opening. Use Cut 'n Sew to form the center opening for your Tree Skirt.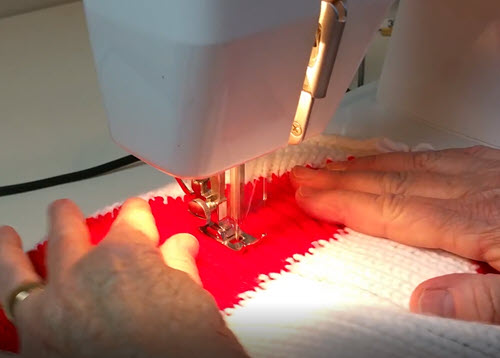 Outside the Box Practice Vest
Who needs a pattern? For a quick practice project, combine a little imagination with a mishmash of techniques. A small time investment goes a long way toward building your knitting confidence.
Cut 'n sew
Unusual armhole and neckline binding
Crochet Trim
Not just for dolls ... stretch your skills and get creative in your knitting.
Sew 'n Cut Striped Pillow
A pillow project that is fast, fast, fast! Use the cut 'n sew technique to create a heart shape. Put your serger or sewing machine to work and have a gift or a craft fair item in no time!

We used stripes, but you can substitute any stitch pattern, fairisle or intarsia. Long floats aren't a problem and you don't have to worry about shaping and working a stitch pattern at the same time.