Garter Stitch on the Machine
8 ways to knit Garter Stitch
Garter Stitch Inspiration
Introduction
One of the first surprises for most machine knitters is the fact that the humble garter stitch is problematic on the knitting machine. Because our needles face in one direction and they form uniform stitches in one direction, we can easily produce stockinette stitch (translated knit 1 row, purl 1 row) but to knit every row?…..

Be default, knitting machines knit stockinette stitch. Stockinette has a smooth side (knit) side and a bumpy side (purl side)
In hand knitting terms this is knit 1 row purl 1 row.
Hand knitters can easily knit garter stitch by knitting every row. The "purl bumps" are visible on both sides of the knitting.

As machine knitters we have to take steps to show the purl bumps on the opposite side of our knitting.
Even with a ribber, knitting in garter stitch takes extra steps.

There are a number of techniques you can use to get garter stitch texture in your knitting. From hand manipulating a few stitches to turning the work with a garter bar, to using your ribber to using a garter carriage, with a little planning machine knitters can incorporate purl bumps in our knitting.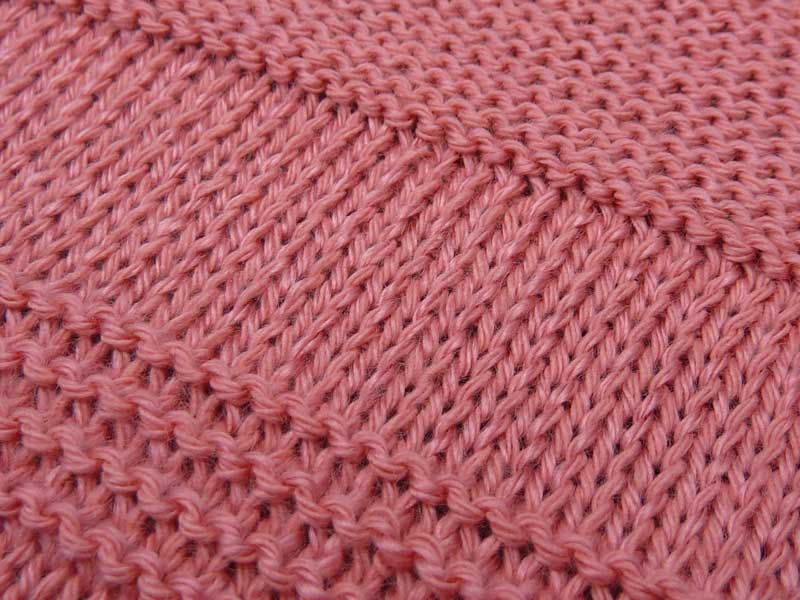 1. Reverse Stockinette
2. Garter Bar Turn
Master using a garter bar to "RTR" (remove- turn – rehang) a large numbers of stitches to add garter rows to your knitting. This isn't practical for an entire garment, but is useful in adding stripes of garter stitch or knitting bands.
Garter bars are available for most machines but they are specific to the
PITCH
of your machine. You MUST know if your machine is 4.5mm, 6mm, 7mm, 9mm etc.The prongs of the garter bar must match the position of the needles.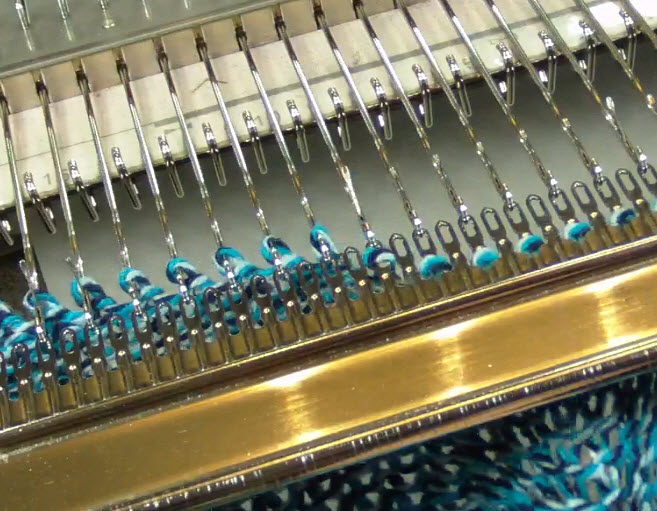 3. Hand Knitting Needle Turn
A variation on RTR (Remove-Turn-Rehang) is to use a hand knitting needle. Remove each stitch of a row, turn the work and rehang each stitch back on the needlebed. Knit a row … then repeat … and repeat … and repeat for garter stitch.
4. Garter Carriage
Brother Machines offered an optional accessory called a Garter Carriage (standard gauge 4.5mm machines only). This is a motorized attachment that has a single latched needle that faces the opposite direction from the needlebed of the machine.
Utilizing the motor, the G-carriage automatically reforms each stitch (one at a time).
---
Needless to say this is a slow process, although it can run almost unattended. It is great not only for garter stitch, but for knit and purl stitch patterns as well.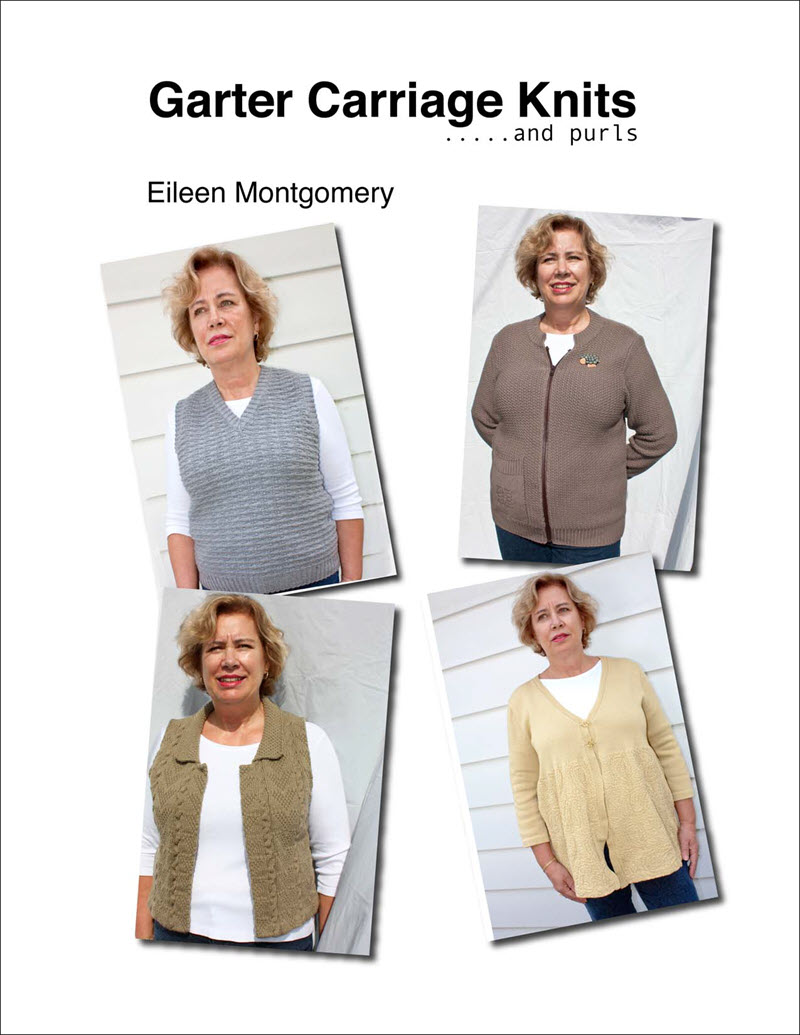 5. Hand Manipulation
Hand manipulation – The most tedious method of adding garter stitches is to reform each stitch.
Use your latch tool and pick up a single stitch in the row below the current row.
Remove the stitch from the machine, unknitting the current stitch.
Using the latch tool, re-form the stitch and re-hang it on the needle.
Although tedious, this method can be used for small amounts of accent stitches.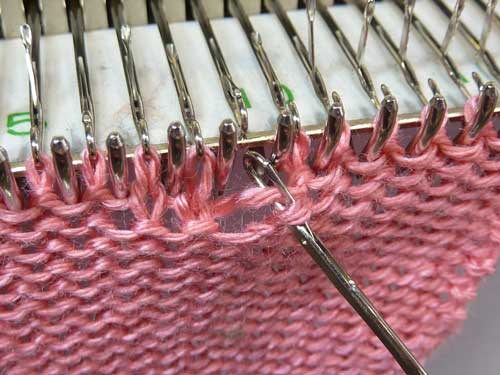 6. Ribber Transfer Between the Beds
Although a ribber has needles facing in the opposite direction than the main bed, knitting garter stitch still requires hand manipulation with a ribber.
For example:
Cast on your main bed and hang a ribber comb
Knit a few rows.
Raise (engage) your ribber and transfer all the stitches to the rib bed
Knit a row.
Transfer all the stitches back to the main bed and knit a row.
Repeat for garter stitch.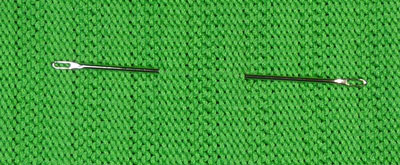 7. Ribber Transfer Carriage
Another accessory is a transfer carriage. It "automatically" transfers stitches between the needlebeds.
8. Hand knitting
Considering all the time and fuss it takes to create garter stitch on the machine (except for the g-carriage)… if you want garter stitch hems, hand knit them, then hang the work back on the machine to finish.

If you want a stripe of garter stitch, remove the work from the machine on a hand knitting needles, hand knit the stripe and hang it back on the machine.

There is NO law that says your entire project has to be done on the knitting machine. There is also NO law that says all knitting must be done by hand …. (machine knitting is NOT cheating).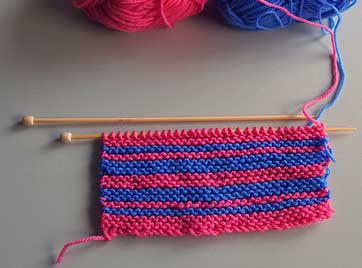 Garter Eyelets Insert
Decorative eyelet and garter ridge insert. Alternate with multiple color stripes for fun, happy sweater.
No Roll Infinity Scarf
By definition, an infinity scarf or Mobius scarf has no beginning and no end. The challenge to knit one on a knitting machine is to create a reversible fabric. For single bed machines that means turning your work or reforming stitches.
This quick project creates a scarf that's not only reversible, but it has minimal stockinette curl.
Jodi's Garter Bar Demos
From Jodie*:
"For a long time the demonstrating of the Garter Bar has been one of my most popular presentations. Under this cover, you have the information given during these lectures. In addition, full illustrations are offered to assist you in mastering this necessary accessory to your knitting machine."
Included:
Using the Needle stopper Bar
Speed Ripping
Using the Garter Bar
Transferring Stitches
Holding stitches on sinker posts
Multiple decreasing or increasing
Transferring groups of stitches
Vertical weaving and embroidery weaving
The Diophantine Equation (Magic Formula) great information for both hand and machine knitters
Ready to Download
*Well known, long time machine knitter, Jodie Raymond traveled extensively sharing her knowledge of machine knitting. Known for her excellent finishing work and her clear instructions, Jodi authored 17 books in her long career.
Sailing with the Garter Carriage
Fire up your Garter Carriage and knit these 14 timeless, unisex, pullover patterns with a
nautical theme
.
Drop Shoulder with crew neck style
Sized from 44" - 56" finished bust
Gauge 6 - 6.5 stitches and 9-10 rows per inch
75 pages
Ready for IMMEDIATE DOWNLOAD
45 stitch pattern included
DAK files
Full-size punchcard images
Tree of Life
Diamonds
Cables
Hearts
Boxes
Anchor
Zig Zags
Starfish
Ship
Phyllis Waterhouse is a long-time machine knitter, knitwear designer, instructor and author.
The photography may be dated, but her books are clear, easy to follow and stuffed full of helpful tips and tricks.
Knit Club: Garter Stitch 8 Ways
Let's talk Garter Stitch!
Weekly LIVE shows and replays are available for Subscribers only.

Links mentioned in the Show
Classroom: Garter Stitch on the Knitting Machine
Jodi's Favorite Demos
---
00:01:24 - Garter Stitch 8 ways Classroom
00:01:46 - 1. Reverse Stockinette
00:02:55 - 2. Garter Bar Turn
00:07:20 - 3. Use a Hand Knitting Needle
00:09:50 - 4. Garter Carriage (G-Carriage)
00:12:50 - 5. Hand Manipulation
00:14:34 - 6. Ribber Transfer Between Beds
00:17:55 - 7. Ribber Transfer Carriage
00:19:45 - 8. Hand Knitting