Double Bed + Tuck = Fabulous!
Swatching on the Double Bed
Shaping on the Double Bed
Knitting in full needle rib requires that you knit with a yarn that is finer than you may normally use with your machine. Picture stitches being formed on both beds at the same time. If the carriage is hard to push, use a different yarn.

As with any tuck stitches, this technique requires constant, even weight to form the stitches correctly.

Why you need to swatch:
Is your yarn a good size for your machine
is the resulting fabric appropriate for your project
Your swatch will help you determine how much yarn you will need
Cast on the right number of stitches for your desired width
Knit the right number of rows for your desired length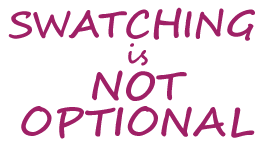 Based on your swatch, use the Knit it Now Rectangle/Square Tool to find out how many stitches to cast on and rows to knit for your desired blanket/scarf size.


---
Cast on with waste yarn and ravel cord, to prevent any distortion of your cast on edge


Use Wire Weight Hangers and move them up as you knit to add additional weight at the edges


Knit with a slower, even rhythm to prevent the tuck loops from getting caught on the gate pegs


Bind off using the Kitchener / Double Bed Bind off