Seaming Perfection
Choices, Choices, Choices
A well executed seam means the difference between "home made" and "hand made"
"OK, Sue... how do you really feel about this?"
Unless you only knit scarves or 1 panel blankets, you need seams. Scroll through this classroom and you'll see nearly a zillion different seaming methods, and this only scratches the surface of techniques that knitters have used over the years.
In some of the older Japanese manuals, they demonstrate using a sewing machine for seaming your knitted pieces.
(be still my heart)
You may disagree, but the idea of blocking, pinning, basting, adding blocking wires, then using a sewing machine isn't my idea of fun.
OK .... I do LOVE
cut 'n sew
... but that's a whole different topic!
Check out the variety of seaming methods that follow ... see any new to you? Give them a try!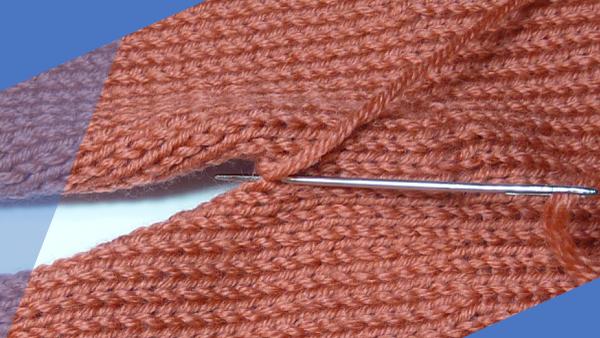 Fast Joins
Creative Blanket Joins
Because of our needlebed limitations, to get nice, WIDE blankets, machine knitters knit blankets in panels.

From simple mattress stitch, to sew-as-you go, to fancy joins, there are many creative ways of seaming the panels.

Make the join appear "seamless" or make the seam the main feature of the design ... it's your choice!
Fancy Seams
Construction Tips
Plan your seams as you are constructing the pieces of your garments
More Construction Tips
Make 'em Fancy!
Interested in more Raglan Seam Inspiration?

Ready to download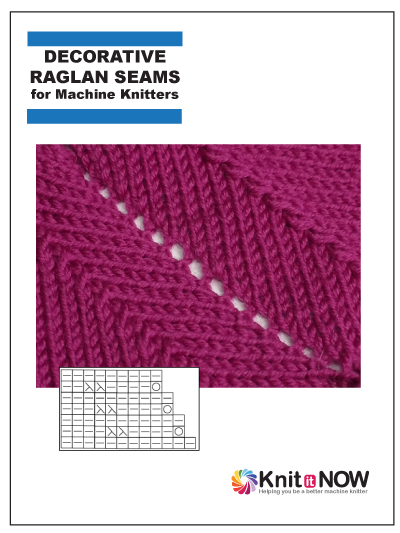 Watch this first
Kitchener Grafting is just like Duplicate Stitch
Neatly and seamless grafting stitches together (joining rows) is an essential skill for all knitters. You may form the toes of socks with grafting. Create tubes of knitting for a cowl or collar by seamlessly joining the cast on and bind off edge.

Grafting is basically creating a row of knitting by hand, joining 2 edges. It is similar to duplicate stitch, so an understanding of this technique is helpful.

Here are some practice exercises and tips for learning Kitchener grafting.
Practice Makes Perfect!

Create a Practice Swatch
Practice Duplicate Stitch

Study the stitch construction

Graft the edges by hand

Graft on the machine - Purl Side
Graft on the machine - Knit Side