Tuck Talk
So many possibilities with tuck!
Tuck is a great way to add texture and interest to your knitting.
When knitting tuck, certain needles do not knit and the working yarn travels OVER the needles out of work.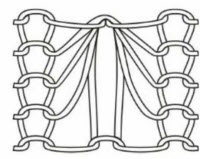 Once you understand how tuck stitch is created on your machine, the sky's the limit!
Change the number of rows tucked
Change the needles selected
Change the number of rows between tucks
Put some needles out of work
Add color
Mix 'n match stitch patterns
Check out the
Knit it Now Stitch Library
for Tuck and Tuck lace Inspiration! Here are a few samples:
Tuck Basics
Tuck got you stumped? This popular stitch pattern can be worked on any machine.

The secret is UNDERSTANDING what is happening with all the settings on your machine.

No matter what machine you are using, there are 4 Essentials to instructing your machine to knit in tuck.
Follow along as we walk thru each step.
Tuck Lace
Tuck Lace (tuck with needles out of work) is a favorite technique.
Although this video is focused on manual machines, putting needles out of work is possible with automatic patterning machines as well.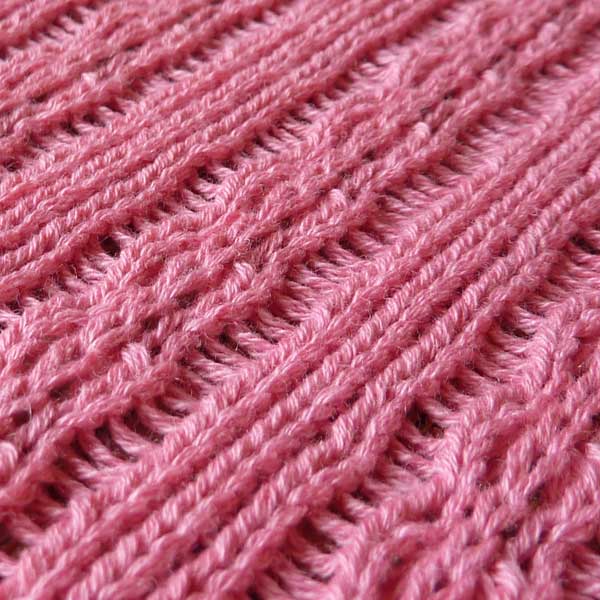 Multi-Color Tuck
Alternating colors along with tuck stitch patterns can create amazing designs. Also known as Coin Stitch, Bubbles, Bricks and blocks, this needle and color arrangement is a classic!
Tuck Lace Cutie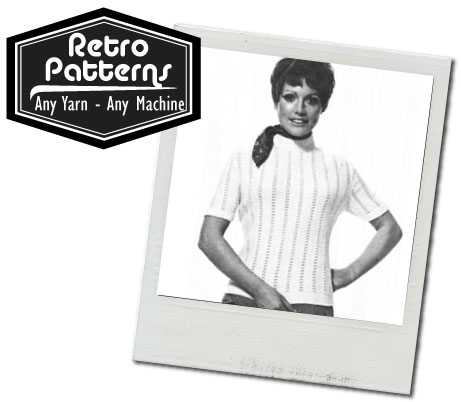 This retro pattern has classic appeal and is a great example of how to add a bit of tuck lace to a garment
Sharron's Vest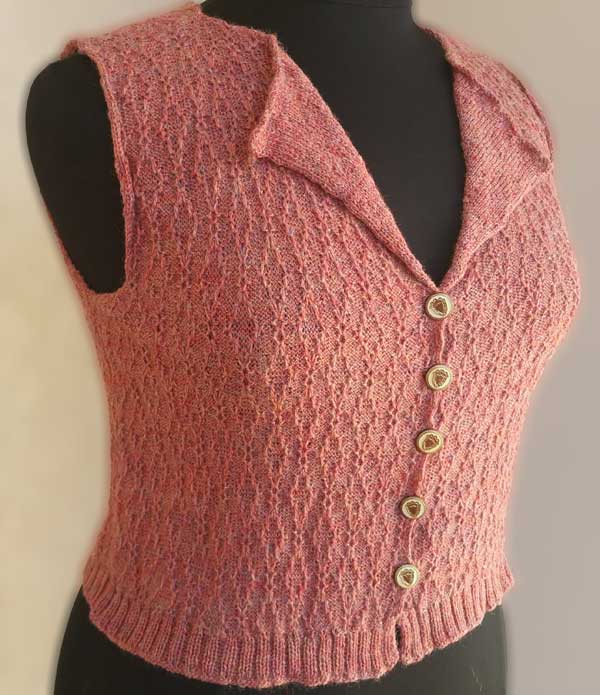 Sharron added gorgeous texture to this simple vest. The texture of the "wrong" side adds interest to the turned back collar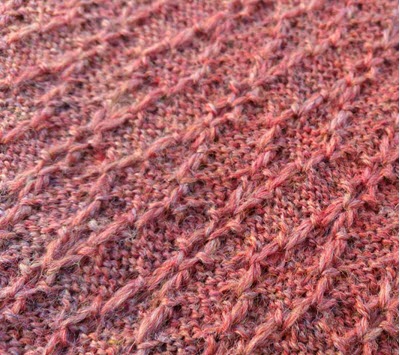 ruffled cardigan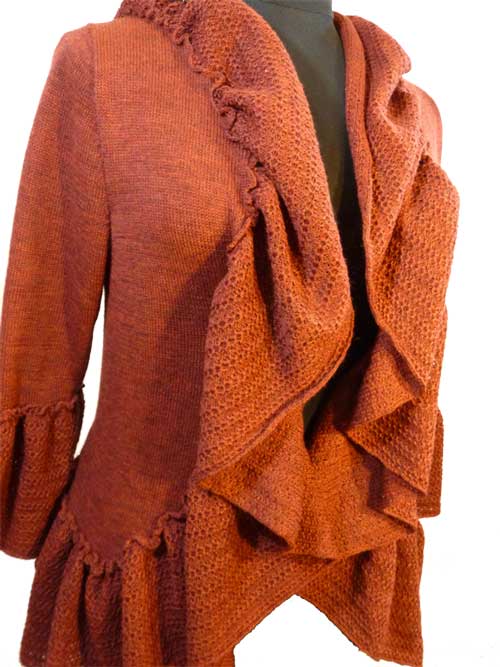 Tuck for the ruffles not only adds texture, but helps "tame the curl"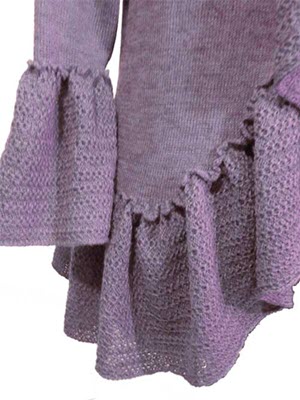 Ruffled Cardigan
Purchase This Pattern
With the purchase of this pattern you will be able to generate this pattern 3 times in your own specified yarn gauges.
Tucked Blocks Pillow
Take a fairly simple tuck stitch pattern and add stripes for a quick, textured, colorful pillow.

Our pillow is knit on a patterning machine (punchcard or electronic), but the stitch pattern is simple enough to work on a manual machine.
Tuck Baby Trio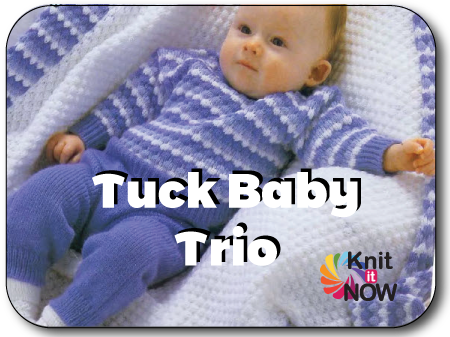 Purchase This Home Study Course
Price: $24.95
Become a subscriber today and
save 50%
on this course
This complete course includes instruction and patterns for the sweater, leggings and blanket.
Sweater - pullover with a button opening the back
Leggings - keep the little ones warm!
Blanket - knit binding in multi-color tuck
Tuck Example 1
This is a very simple tuck pattern.
Tuck every other needle
Tuck every other row
Knits very wide (compared to Stockinette)
Interesting texture on both sides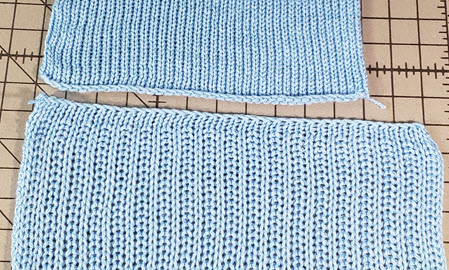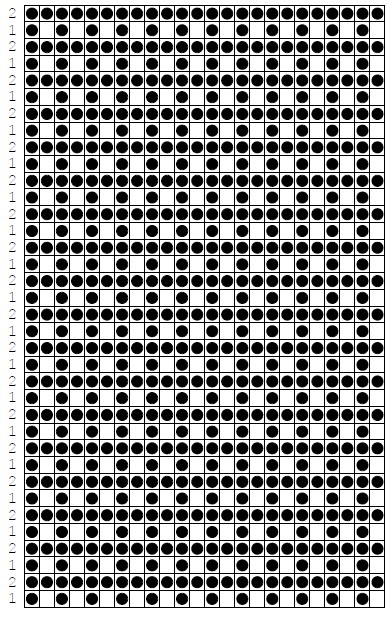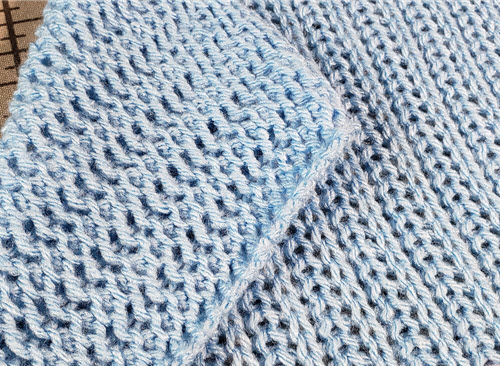 Tuck Example 2
Another simple tuck ... notice the 5 plain stitches (black holes) between the tucks (no holes) .
Tuck 4 rows with 5 plain stitches between
Knits wider than stockinette, but not as much as Example 1 (less tucks per row)
Interesting texture on both sides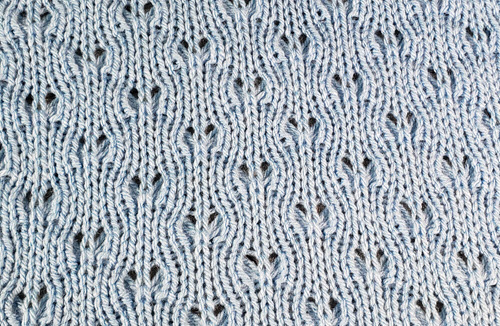 Tuck Example 3
TUCK LACE
Use the same card as the previous example, but put needles out of work.
The needle out of work create decorative "ladders"
The "ladders" replace one series of tucks
There are 9 plain rows between tucks
Interesting texture on both sides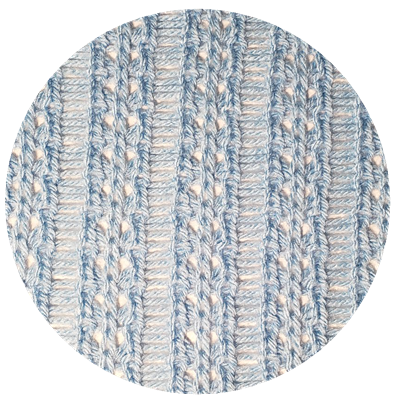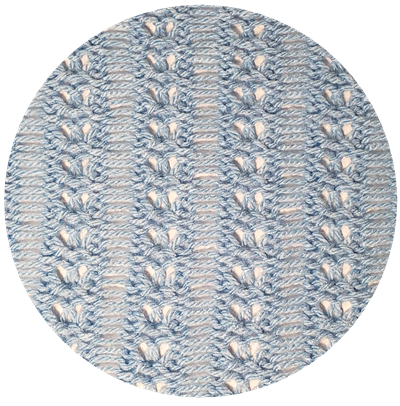 Scallops with Tuck
Utilize tuck stitch to "distort" the edges of your knitting into Scallops
Tuck Faux Ribbing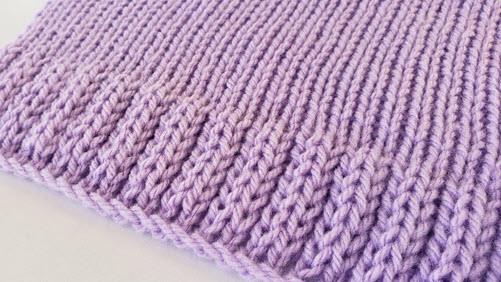 For the look of 2x1 ribbing, without hand manipulation or a ribber, try tuck!
This stitch pattern doesn't pull in or stretch like regular ribbing but it does produce columns of stitches that resemble ribbing.
Remember tuck knits wider than stockinette, so you may want to cast on fewer stitches than your garment piece, knit the "ribbing", then cast on some stitches for the garment width.
This also requires weight (add more weight than you would plain knitting). Because there are loops over 2 needles, you want the weight to control those strandsso they don't loop over the gate pegs of your machine.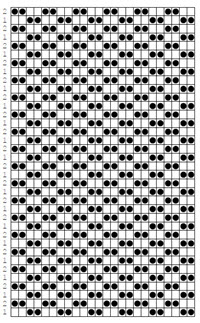 Tuck for Sharp Creases
If you want a sharp crease when knitting slacks and skirts, tuck is just the tool! These type of creases can also be used when knitting facings or for sideways knits
Stitch Types
Troubleshooting Tips
Automatic patterning helps us make beautiful textures and fabrics. Sometimes things don't go as planned. This is the 3rd in the
Troubleshooting series
and focuses on problems specific to patterning, both punchcard and electronic.
Unwanted areas of plain knitting
Mis-patterning
Dropped stitches
Problems with tuck patterns
Many things can impact patterning. We suggest you review the tutorial, Troubleshooting - Plain Knitting. Many issues that are covered in that tutorial don't show up until you try to do automatic patterning.
Swatching in pattern
There are a variety of techniques for creating swatches. Most machine knitters have their favorites.
But what if you are working a stitch pattern?
Here are techniques for creating accurate gauge swatches when knitting with needles out of work, tuck, lace or highly textured stitch patterns.
7 Tuck Lessons Learned the Hard Way
Measuring and calculating accurate gauge when knitting in tuck can be problematic. Here are 8 tips learned the hard way
Uninterrupted Patterning
Let's talk Tuck
Original LIVE date March 5, 2019

Let's talk Tuck! A basic technique that can be worked on any knitting machine.
Tuck ads texture and width and the possibilities are nearly endless!

Manual Machine, Punchcard or Electronic ... you CAN knit Tuck!


Weekly LIVE shows and replays are available for Subscribers only.
Links mentioned in the Show
The Tuck Classroom
Upcoming Knit-Along - Soft Sideways Cardigan
Women Sizes
Misses Sizes

00:07:43 - Tuck Rules
00:12:51 - Compare 2 swatches
00:14:32 - Advantages of Tuck
00:15:05 - New 'Talking Tuck' Classroom
00:18:27 - Sample 1
00:20:55 - Sample 2
00:26:50 - Sample 3
00:30:05 - Knit it Now Stitch Library
00:36:52 - Tuck Faux Ribbing
00:43:00 - Next Knit-Along: Soft Sideways Cardigan