click to enlarge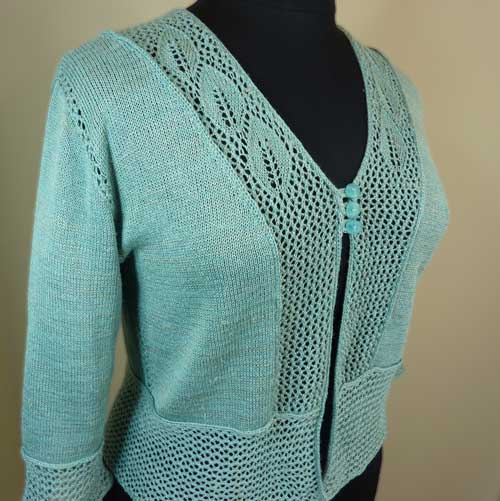 Cardigan
Misses
Square
V Neck
See other knitters successes
by Ellen Kindsvater
Misses Sizes. sizing chart
Designed for the standard gauge machine, this lightweight, lacy Plus Size Cardigan is a year round beauty!
(With the Dynamic Pattern, you can use any yarn and any machine).
This high hip length sweater features 3/4 sleeves with lace cuffs and hem. The lace insert in the center back adds interest and the lace along the side seams and around the armholes gives it a designer touch.
The lace work on this sweater is not for a beginner. You MUST have a firm understanding of your lace carriage for success.
The sweater is finished with I-cord accents on all seams. (Included is a tutorial for the I-cord techniques)
Ellen has outdone herself with the leaf motifs floating on a lace ground at the neckline.
The sample was knit on a Brother standard machine, using the lace carriage. Included are extensive directions for the challenging lace work.
No lace carriage? Substitute any stitch pattern and make it your own! (Just make sure you can block the substitute lace or other stitch pattern to the gauge of the body of the sweater)
This pattern is also available in
PLUS sizes.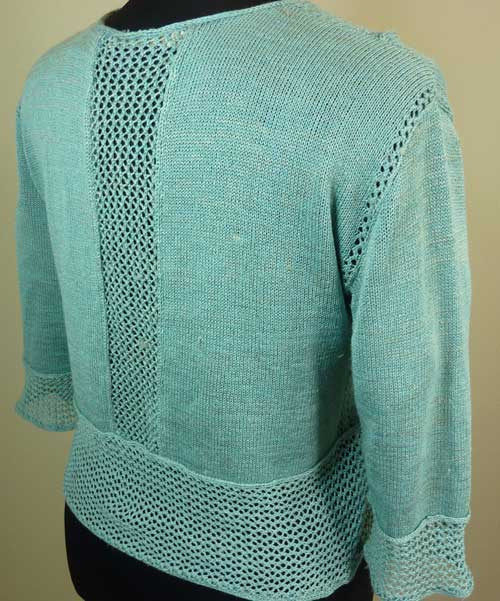 Please login to view this tutorial
An active subscription to Knit It Now is required to view this tutorial
But access to this video is provided with purchase of this pattern
Purchase This Pattern
With the purchase of this pattern you will be able to generate this pattern 5 times in your own specified yarn gauges.

Experienced

Subscribers have NO limits on the number of times they can build this pattern