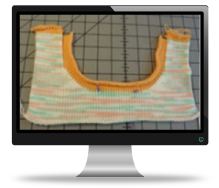 Shaping Necklines is one of the most challenging things for machine knitters to master. We split the knitting and shape one side, then go back and mirror the shaping on the opposite side. Adding shoulder shaping adds to the the challenge.

We can choose to shape with decreases and bindoffs or use short row shaping.

Let's explore the options for shaping necklines and perfect our skills.
Knit-Along Outline
Recorded Live Events
Saturday
Feb KAL Q&A #1
Saturday

---