Using Hand Knitting Patterns For Machine Knitting
22 minutes
Using hand knitting patterns for your machine knitting is easier than you may think! All it takes is little planning, familiarity with the capabilities of your machine and just a little bit of math.
When considering using a hand knit pattern ask yourself:
Can it be done?
Is it practical?
Are you willing?
GOALS OF THIS COURSE:
After completing this course you will be able to:
Identify garment styles and shapes used in a hand knitting pattern that are appropriate for machine knitting
Recognize stitch patterns and knitting techniques that can be worked on the machine
Perform the simple, basic math needed to translate hand knitting instructions to machine knitting.
Can this hand knitting pattern be knit on the Machine?
Many hand knitting patterns can be easily converted to machine knitting. In this lesson, you'll examine 3 basic questions:
Is it possible to knit this design on the machine?
Is it practical to knit on the machine?
Are you willing to invest the time and energy to knit this design on the machine?
Examine Style, Stitch and Yarn
Let's look more closely at some hand knit sweaters. To evaluate whether a hand knitting pattern (or a ready-made design) is appropriate for knitting on the machine, there are a few considerations.

This lesson discusses yarn choices, sweater shapes and stitch patterns.

Armed with this knowledge, you'll be ready to expand your pattern choices for your knitting machine.

BONUS:
Design Inspiration Checklist - Printable worksheet that can be used as design inspiration with a checklist for determining if a design you like can be knit on the machine using the criteria outlined in the video.
Hand Knit to Machine - Simple Math
Because machine knitters can't measure the length of their knitting as we work, we rely on our row counter.

This lesson walks through the process of converting the length dimensions indicated in the pattern to rows based on your row gauge.... using simple math.

BONUS
Pattern Conversion Practice - Printable practice sheets (with answers) converting the length dimensions of both a sweater and a sleeve to rows for machine knitting.
Translate Hand Terms to Machine Techniques
Hand knitting patterns have their own language and abbreviations. Whether you are working on 2 needles or 200 needles, the basics are the same. Casting on, binding off, decreasing, increasing all are the same. The trick is to translate the abbreviations used and the techniques described in a hand knitting pattern.

Included in this lesson are some of the most commonly used terms and a demonstration of each on the knitting machine. The goal is for you to be "multi-lingual" and be able to use both styles of knitting instruction.

BONUS
Hand Knit to MK Abbreviations - Printable listing of abbreviations and the associated machine knitting techniques.
Sorry this course is no longer available for sale
8 paged study guide included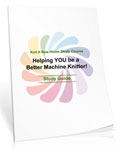 Receive access to the Home Study Guide and all Bonus Materials with the purchase of this course.