Vicki's Cardigan
85 minutes
Take a ready-to-wear inspiration sweater (or a hand knitting pattern) and make it your own.
Use a Knit it Now Basic pattern.(Misses or Plus)
Add your own stitch pattern.
Modify the length.
Add some special techniques.
Duplicate the design details.
Make it your own!
This is not a beginner's course. You should have knit a couple of sweaters and be very familiar with your knitting machine. You need to be able to do the math and apply your desired changes to your Basics pattern.
Can this hand knitting pattern be knit on the Machine?
Examine your ready-to-wear or hand knitting pattern to determine if it's a good candidate for machine knitting.
Examine Style, Stitch and Yarn
Examine your ready-to-wear or hand knitting pattern to determine if it's a good candidate for machine knitting.
Vicki Cardigan - Stitch Patterns, Dimensions, Sizing
Plan out our your new sweater. Choose from the wide range of Knit it Now Basics to create a "blueprint" for YOUR Vicki's Sweater.
Seaming Ribbing - Plan Ahead!
It pays to plan ahead so your ribbing matches at the seams.
Stitch Multiples
When choosing your own stitch pattern, you need to consider the stitch multiple so you get a full repeat of the design at the edges of your knitting.
Fun with Flat Ribs
Flat ribs give you the look of ribbing without the pulling-in of regular ribbing.
Fun with Flat Ribs Part 2
Using a decorative flat rib would create a beautiful sweater from hem to neckline.
Tuck Lace
Tuck lace (tuck with needles out of work) is a long-time machine knitting favorite.
Vicki Cardigan - Customizing
With your Basics pattern in hand, work some simple math to shorten the sweater and sleeves to resemble the sample sweater
Vicki Cardigan - Calculations
With a little simple math customize your "basics" pattern to knit Vicki's Cardigan. Watch as we plan ours based on our gauges.
Vicki Cardigan - Front Facings
Here's a bit of an unusual front opening finish and some options for your sweater.
Vertical Bands
Even though Vicki's cardigan doesn't have buttons, here are some great tips for creating a crisp, neat edge for your faced front edges.
Edges for Slit Skirts, Sweaters and Necklines
You may want to go "au natural" and not face the front edges of your cardigan. Here are tips for some alternate edges.
Knit-in I-Cord
Another method of finishing the front edges.
Vicki Cardigan - Collar Choices
Watch as we explore some stitch choices for Vicki's Cardigan. Both ribbed and non-ribber options are shown.
Double Bed Bind Off
How to bind off when working full needle rib, double bed jacquard, tuck rib or any double bed fabric. Use basic skills for a professional finish.
I-Cord Bind off and Cast on
If you are a hand knitter, you may have heard of an i-cord bind off. Let's work it on the knitting machine... Plus we'll examine an i-cord cast on that will inspire you to explore this technique further!
Vertical Buttonholes
If you plan to button your collar ... here's a technique for beautiful vertical buttonholes in pattern.
3- Needle Bind off (Shoulder Seams)
Neatly join your shoulder seams for a professional finish.
Set In Sleeve Perfection
TIP: Practice setting in sleeves in YOUR stitch pattern.
Sorry this course is no longer available for sale
10 paged study guide included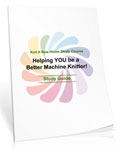 Receive access to the Home Study Guide and all Bonus Materials with the purchase of this course.