Need A Plus Size Cardigan?
54 minutes of video
This Cabin Fever Book was written for hand knitters, but
machine knitters can use the book with great success
to create beautiful top down raglan sleeve cardigans that fit!
The authors, Deb Gemmell and Robin Hunter have spent quite a bit of time interviewing, measuring, teaching and working with knitters of all shapes and sizes. The result is an excellent book that allows you to custom fit your cardigan for your shape!
The instructions are written for 6 gauges (from 14 - 24 stitches in 4") - so you can use your standard, mid-gauge or bulky machine for your project.
The book begins with a basic cardigan to get you started. Once you've mastered the top down concepts and incorporated the fit changes for you, the book give lots of options to let you be creative and make sweaters that not only fit, but reflect your style!
Please note, this is not a beginner project. You need to have experience with your machine.
The Home Study Course does not include the book. A digital version is now available on Ravelry Ravelry eBook

GOALS OF THIS COURSE:
Translate hand knitting instructions into machine knitting terms
Create personal knitting pattern from charts in the book
Choose fit options for personalized sizing
Choose technique options for machine knitting
View start-to-finish video including machine knitting tips
Introduction to your Machine Knit Plus Size Cardigan
Here's an overview of how we are going to take all the charts in the book and whittle them down to a 2 page pattern ... designed just for you!
1 minute
Raglan Blueprint
Find your numbers, make decisions and plan ahead. Complete this cheat sheet and make knitting your top down cardigan a breeze!
11 minutes
Raglan Seam Options
Take a look at increase techniques that you can use to customize your sweater.
3 minutes
Sleeve Cheat Sheet
Choices! Cap sleeve, short sleeve, 3/4 length, or long sleeve. Use this cheat sheet to not only select your style, but to insure that your sleeves are perfect for YOU!
3:30 minutes
Sleeve Alterations for Custom Fit
After helping hundreds of knitters fit the Plus Size Cardigan, the authors have found the sleeves to be the most challenging for many knitters. Included in this video are suggestions for making the upper arm area fit you perfectly!
3 minutes
Body Shaping Options
More Choices! Add waistline shaping or A-line Shaping. Learn ways to work around the needlebed size limitation and make your sweater fit!
3 minutes
Start to Finish
Watch as I knit my Plus Raglan from start to finish. Following my blueprint, the knitting is fast and easy!
9 minutes
Bands and Hems
Get creative and choose the band and hems styles of your choice! Hand knit or machine knit, here are suggestions for that perfect finishing touch!
2:30 minutes
Easy Ribber Bind Off
This is an easy bind off, finished on the machine, that requires no hand sewing with a tapestry needle to complete.

This tutorial assumes that you have basic knowledge of the ribber and can cast on and knit 1 x 1 rib.
Stretchy (Sewn) Bind Off
Here's a stretchy bind off that you will love! Similar to a hand knitting sewn bind off, it's just as fast as any other bind off method.

This technique is perfect any time you want to make sure there is no restriction on your finished edge.
3:30 minutes
Reverse Hung Hem
Have you ever wanted to end a knitted piece with a hem? Scarves and blankets can use this technique.
Multiple options are presented for creating and finishing reverse hems.
3:30 minutes
Sorry this course is no longer available for sale
5 paged study guide included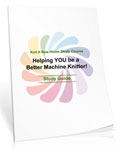 Receive access to the Home Study Guide and all Bonus Materials with the purchase of this course.