Beginner Bootcamp
over 2 hours of video
Master your knitting machine in 30 days! Learn and practice the basics that every machine knitter should know.
You have to walk before you can run. Yes, you want to make that gorgeous sweater on the cover of Vogue Knitting magazine ... but without a firm foundation, you will not be happy with the results.
Be patient, start at square one and take it one step at a time. Each day's tutorial builds on the previous day. You will knit 3 caps, each using techniques you've learned.
When you complete this course, we guarantee that you will be ready to knit garments.
NOTE: This is an online class only. DVD's are not provided
The focus of these tutorials is on Japanese machines. It is not specific to one brand or model, but the information provided does not apply to Passap machines.
Introducing ... Your Knitting Machine!
You have to walk before you can run. Take time to get familiar with your machine and some of the terms you will be using.
Yarns for Machine Knitting
You can machine knit with any yarn, but you need to know what yarn you need for YOUR machine.
Helpful, Essential Tips
Tips for getting started with your machine.
Open Cast On
There are many ways of starting your knitting. Open cast on methods are usually quick and temporary.
Closed Cast on Basics
Closed Cast on methods are permanent and suitable for the edges of garments You'll need to know different methods. Which cast on is stretchy? Which one will be firm? . We explore a few closed cast on methods.
More Closed Cast On Methods
Once you master the basics, explore more decorative cast on methods.
Troubleshooting Cast Ons
If you are struggling with your cast on, or it just isn't turning out as you imagined, try some of the tips offered.
Needle Positions
The mechanics of a knitting machine are simple. A needles slide out, catch the yarn in a hook and pull the yarn back to form a stitch. The position of the needle as the carriage passes it determines how and when the stitch is formed. Understanding the needle positions on your machine is essential.
Binding off
As you are knitting, if you remove the yarn from the yarn feeder and pass the carriage across the work, everything drops off the machine! Learn 3 bind off methods that are a must in every knitters's bag of tricks!
Scrap Off
Sometimes you need to hold stitches to pick up and knit later. You don't want to bind off, you want the live stitches available. Get familiar with this technique. Machine knitters use scrapping off with waste yarn quite a bit.
Importance of Gauge
If you are a hand knitter, you probably understand the importance of knowing the stitch and row gauge of your knitting. Explore how just one stitch difference can make a huge change in the size of your garment.
Knitting a Gauge Swatch
Knitting a proper gauge swatch is critical for success. Because machine knitters can knit swatches quickly, there is NO EXCUSE for not knitting a gauge swatch.
Using Weights
Adding weight to your knitting helps the machine form stitches correctly. Understand weighting your knitting and you won't get caught up in spending too much time worrying about it.
Tensions
Learn to control your stitch and row gauge. Experiment with the tension dials on your machine and explore how they impact the gauge of your knitting.
How much yarn do I need?
One of the most often asked questions in knitting is "How much Yarn do I need?" Determine the dimensions of your garment and estimate the yarn needed.
Seaming on the Knitting Machine
An alternative to mattress stitch for seams in your knitwear is using the knitting machine. This fast method of joining seams may become your favorite
Project: Beginners Hat
Are you ready to make something useful (other than swatches). At this point you can cast on, work some plain knitting, bind off and join a seam. Try this simple hat. You will chart your own pattern. Don't worry, it's simple math!
Knitting Stripes
Stripes can add a lot of interest to your knitting. Here are tips for adding stripes, dealing with the yarn tails and working "jog-less" seams.
Slip Cord (I-Cord)
The knitting machine makes fast work of slip cord. Also known as I-cord, this technique can be used for straps, belts and embellishment. It can also be used to finish the edges of your knitting.
Hems
Hems can add a beautiful, professional alternative to ribbed edges and cuffs. But the hem technique has lots of uses. Learns different methods of hanging hems and get ready for your next project.
Project: Double Warm Hat
Improve on your beginner's hat with techniques you've learned. Again you will chart your own pattern. This time, the hat is doubled with a hung hem, making it extra warm. We will eliminate some of the bulk at the top and learn some new finishing techniques.
Ribbing
Creating ribbing on a single bed machine involves reforming stitches. Learn how this is done and share a small secret about using hand knit ribbing on your machine.
Mock Ribbing
A MUCH easier way of getting a ribbed look on your machine is by using mock ribbing. Practice working this practical, versatile technique.
Reading Machine Knitting Patterns
Machine knitting patterns differ from hand knitting patterns in one basic way. Explore some of the different pattern styles that have been used over the years.
Speed Ripping
Oops! We all make mistakes. Learn to rip out rows and keep track of your row count ... before you start a big project.
Stitch Types
So far, we've focused on the basics ... it's time for a bit of fun! Discover some of the stitch types that knitting machines can create. This is a generic overview of slip, tuck, lace, etc ... but it is essential that you understand the construction of these stitches, while exploring them on YOUR machine.
Increasing on the Machine
Unless you are only going to knit blankets, you need to master increasing and decreasing. There are many techniques available - comfort with the basics will take you a long way!
Decreasing on the machine
Adding and removing stitches neatly is key to shaping professional looking garments. Master basic, full-fashioned, and decorative decreases.
Blocking
Blocking your knitting gives a professional finish. Consider a few different blocking techniques. You'll learn steaming, wet blocking, using wires and blocking different types of fibers.
Project: Watch Cap
Put it all together with this shaped watch cap. Knit some ribbing, take your work off on waste yarn, increase stitches, decrease stitches, sew neat seams . This time you will use the included Knit it Now Dynamic pattern instead of charting your own. Use any yarn and make it your own! Once you master this hat, you will be ready to take the next steps on your knitting journey!
Sorry this course is no longer available for sale
30 paged study guide included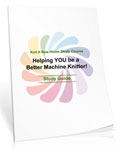 Receive access to the Home Study Guide and all Bonus Materials with the purchase of this course.
This course includes the dynamic pattern
Watch Cap