As we machine knit, our knitting is stretched across the needlebed and we also hang weights. This can distort the stitches.

Many knitters will remove the knitting from the machine, "tube" their knitting (roll the knitting lengthwise and pull to "pop" the stitches in place and set them), then let it rest.

Tubing your knitting is controversial. The one thing to remember: If you tube your swatch, tube the garment pieces.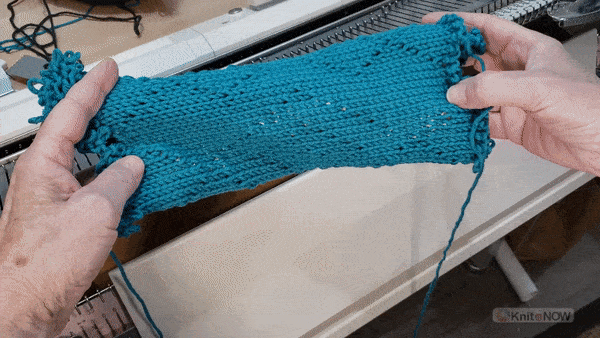 ---
You must be logged in to add your comments
15 COMMENTS
Actually I pull the knitting in all directions and then I leave it for a day or two before blocking it.
---
Never heard of the term, I usually block, especially for larger pieces, I may 'tube' from now on though ??
---
Always tube acrylics and wool. Not cotton, as the swatch must be washed to have a stitch/row gauge.
---
---
Sharon Amodu H
Feb 15, 2022
I try to knot but its pulling out from the niddles. What do I do?
---
i didn't know there was a term for it or an actual thing, it just seems to make sense if it was pulled down to try to re organize it....so to speak! I have a new knitting term! oh boy! ok well...I do it both ways then leave it to do its own thing. the trick is to leave it be over night and not keep admiring it.
---
I do tug downwards across the swatch, but I never thought to roll it!
---
What is controversial about it? I never learned to do it or not do it. It just seemed natural to do it.
---
It seems that when I did it the few times I did, the stitching went back to the way it did before doing it. I am still learning and use acrylic, and that could be why it just goes back to looking like it just came off the machine.
I can see the stitches are more "connected" right after doing it and can see that they go back to not being as connected, just like fresh off the machine, a few minutes later, if not sooner.
I have not been doing it since being able to get more involved with the machine knitting.
---
I was told to crumple it (make a gag or clot) and leave that overnight. (I am not sure if am using the correct translation; verfrommelen in een prop)
---
I always pull in both directions to set the stitches.
---
I also pull in both directions but not in a tube.
---
I was taught to stretch knitting off the machine in both directions, both width way and top to bottom.
---
I pull it in that direction, not necessarily tubing it, then pull in the other direction too, specially with fairisle otherwise the stitches seem to go out of shape...
---
always for a hat, and usually for a blanket. and if I am blocking, always.
---