Have you ever found yourself puzzled by the concept of "positive ease" in knitting patterns?
I was recently browsing through some knitting patterns online and I came across this description:
"Pattern is designed with 4" of positive ease for a loose fit. Amount of positive ease will depend on where you fall within the size range: model is 5'3" with 36" bust, wearing size M."
Although this information is intended to help you choose a size to knit, it raises some crucial questions. Why guess?
Model's measurements
So that gorgeous, young model has a 36" bust .. what does mean to me??? Without knowing the finished measurement of the sweater at size "M," the information about the model isn't helpful.
What is Positive ease?
Ease is the difference between the actual body measurement and the finished garment size.

Positive ease gives you some breathing room, negative ease will hug your curves


What does "4 inches of positive ease" really mean?

The fact that knitting stretches makes determining ease even more challenging.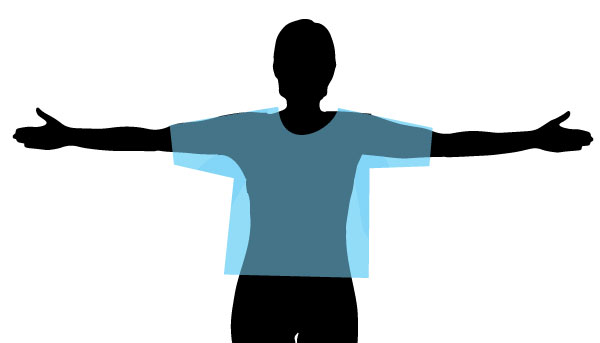 Pinching isn't helpful
Some knitters will "pinch" a sweater to determine ease. But this is really just guesswork
I'm "pinching" about 4" on each side of this sweater .. does that mean there is 8" of ease?

But wait! I'm also stretching the ribbed knitting ... there has to be better way of determining ease.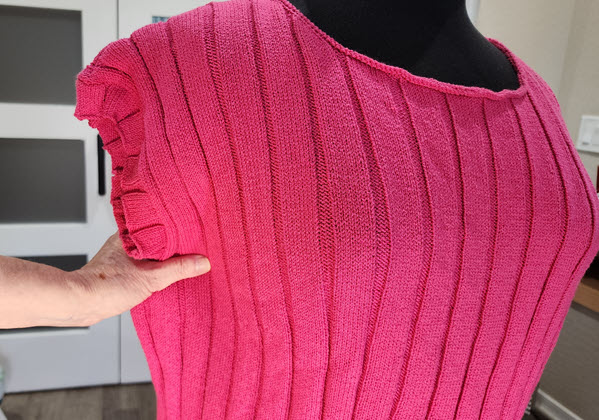 Ease is a personal choice. The best way to establish your preferred ease is to measure a sweater that you like and duplicate those measurements for your finished measurements.
Don't guess
We've preached for years that
the best way to reproduce your desired amount of ease is by measuring something you wear (and love)
and taking into account the stretch factor of different knits
In the photo above, I was able to "pinch" quite a bit at the bust of the pink, ribbed sweater.
But examining the actual dimensions on my model, Esmeralda, the sweater only has about 4" of positive ease for her.
My slim, daughter-in-law would want to take advantage of the ribbing and she would want the sweater much tighter to show off her curves.
For me, the 4" of ease plus the stretch of the ribbing camouflages unwanted lumps and bumps
---
1 COMMENT
"Measure a garment that fits" - along with "measure a gauge swatch accurately" is the best advice anyone ever gave a knitter!
---