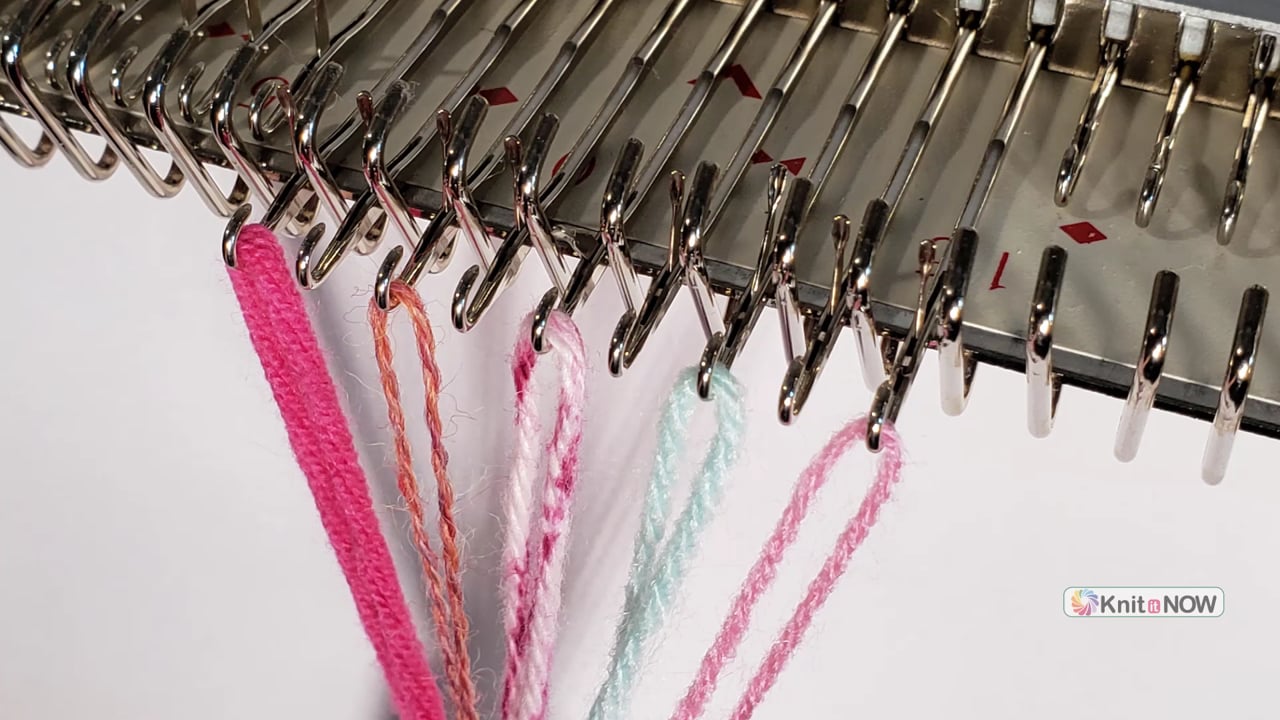 Do you need yarn on cones for machine knitting?
NO! All you need is to have the yarn wound in a way that will easily feed into the machine.
Use a center-pull ball from a yarn manufacturer
Rewind skeins or hanks with a ball winder
What weight for your machine?
For success with your knitting machine, you need to make sure you are using a yarn that is the appropriate weight for your machine.
If you are just getting started, use a medium weight yarn that fits in the hooks of the needles. With experience, you can experiment with different weights.
Machines come in different gauges. Gauge
(Needle Pitch)
refers to the distance between the needles and the size of the hooks of the needles.
What is needle pitch?
The gauge (pitch) of a knitting machine is determined by the distance between the needles.

If you are a hand knitter, think of the different machine gauges as different hand knitting needle sizes.

NOTE:
Although the machine pitch determines the yarn you can use, the actual stitch sizes (knitting gauge) is controlled with the tension dials on the machine.

In hand knitting terms, think of this as choosing a needle size within a RANGE of needles.

The pitch of your knitting machine determines the range. The tension dials determine the needle size.


Fine Gauge
3.6mm
Standard Gauge
4.5mm
Mid-Gauge
6mm
6.5mm
7mm
Bulky/Chunky-Gauge
9mm
Yarn by Machine Pitch
| | | | | | |
| --- | --- | --- | --- | --- | --- |
| Symbol | Style | Yards per Pound | Stitches per 4" | Wraps Per Inch (WPI) | Machine |
| | Lace | 4000 - 10,000 ypp | 33-40 sts | 30-40+ | Standard (stranded) |
| | Super fine | 3000-4000 ypp | 27-32 sts | 14-30 | Standard (stranded) |
| | Fine | 2000-3000 | 23-26 | 12-18 | Standard / Double Bed |
| | Light | 1000-2000 | 21-24 | 11-15 | Mid-Gauge/Standard |
| | Medium | 800-1000 | 16-20 | 9-12 | Mid-Gauge/Bulky |
| | Bulky | 500-800 | 12-15 | 6-9 | Bulky |
| | Super Bulky | 100-500 | 6-11 | 5-6 | May not be appropriate. |
Yarn for your ribber?
If you are knitting ribbing 1x1, 2x2 etc. you can use the same weights of yarn as appropriate for your single bed machine.
EXCEPT
When knitting full needle rib (or variations), keep in mind:
There are 2 needlebeds in work
The space between the needles is cut in half
You need a much thinner yarn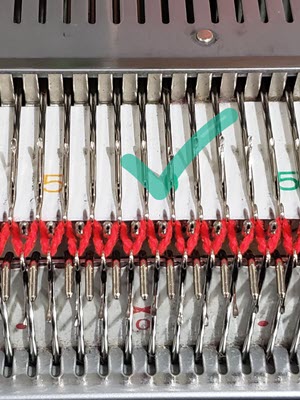 A thinner yarn is needed for Full Needle Rib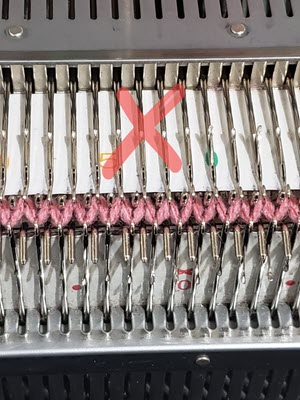 If the yarn is too thick the carriage will be hard to push and the knitting will be stiff
Machine Knitters don't need to use "special" yarn.
If you are just getting started:
Chose a smooth, light color yarn the correct weight for your machine
Stay away from fuzzy, novelty yarns until you get more confidence with your machine
Stick with one yarn. Why add another variable to your learning curve? Choose something you like and make lots of test knits and projects, focusing on the techniques not adjusting to different yarns. Once you gain knowledge and confidence you can play with different fibers, styles and yarn weights.
Choose the yarn you LOVE - and is appropriate for your project. Does your planned project need a washable yarn or can you splurge on a luxury fiber?

Don't get caught in the hobby store rut. There are many, many online sources for yarn. You are devoting a large amount of time in knitting a sweater. Isn't your time worth a few extra dollars to knit something nicer than plain 'ol hobby store yarn?


---
5 COMMENTS
I'm trying to work out the nm that coverts for a standard gauge machine. Unfortunately I rarely find items labelled with the symbols above.
---
Great article. I have made many items from hand knitting patterns using the suggested yarn on my knitting machines with just a few minor adjustments. Swatching is vital of course.
---
Also consider rewinding a manufacturer's center pull yarn. Many, many, many times I have experienced a center pull that is tangle and the tangle happens in the middle of a knit. It save lots of pain and suffering to rewind.
---
Great article. Just be sure you do not stretch your yarn by holding tightly as you wind it. This can cause the yarn to knit fine then when it relaxes it will change your gauge. You might have several different "tensions" stretched into that ball. And your garment might turn out as hoped. Been there, done that!!
---
And don't forget to do Sue's favourite words: Swatch swatch swatch ... Lol
---