I-Cord on the Knitting Machine
Master Automatic Stitch Patterning
2-Color Slip (2-Color Jacquard)
From Wikipedia
In jacquard fabric, the pattern and colors are incorporated into the weave instead of being printed or dyed onto the surface of the fabric. The term "jacquard" indicates how the pattern is woven, not the specific pattern itself.
As machine knitters, we tend associate "jacquard" with double bed jacquard (DBJ) and overlook other ways of creating multi-color fabrics on our machines.
Fairisle (stranded knitting)
Multi-color tuck
Multi-color slip
Knit-weave
Plaiting
In this Lusso Jacquard design, consider using multi-color slip for the patterned pieces.
---
In this example, we used a very simple stitch pattern.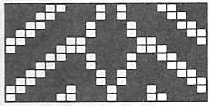 This is stitch #325 from the Stitch World III book. (20 stitches x 12 rows)
The advantage of multi-color slip is fewer floats. Looking at this stitch pattern, you can see that if this was stranded with fairisle, there would be floats as long as 6 stitches.
In 2 color slip, each row is knit with multiple passes of the carriage, employing the slip settings on your machine. Although it can be done without a color changer, (swapping the colors as needed), a color changer makes fast work of this technique.
For every 2 rows there are 4 passes of the carriage:
Rows 1 and 2:
Color 1 (purple) - pass 1 and 2 - the white needles are slipped and the working needles are knit with purple
Color 2 (white) - pass 3 and 4 - the purple needles are slipped and the previously slipped needles are knit with white

This process is repeated to create the pattern, reducing the floats.