LK-150
About the LK-150 Knitting Machine
LK-150 Specific Tutorials
Tutorials for Manual Machines
COURSES: LK-150 Deep Dive
Why this machine is so popular
You can so so much with the Silver Reed LK-150 knitting machine. This manual machine has so much going for it, that many experienced machine knitters are giving their metal bed, automatic patterning machines a rest and using the LK for fast, fun projects.
Some of the advantages of this machine:
It's lightweight and easy to take up and down
It has a reasonable price point
You can take it to knit club meetings and travel with it as well
It's not complicated. 4 levers ... that's it for all sorts of stitch patterns
It knits a wide variety of yarns
It can give you the "instant gratification" that we all want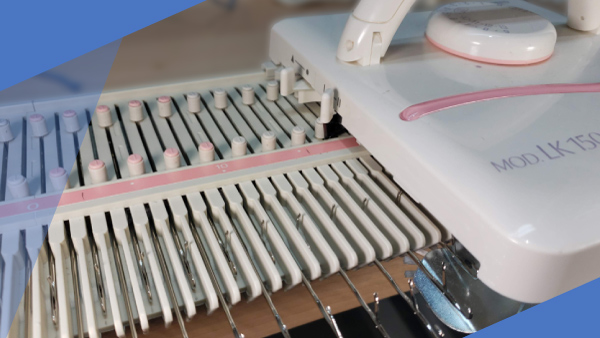 LK-150 Manual
LK-150 Manual
This is a link to the main manual for the LK-150 machine.
LK-150 Fairisle Carriage
LK-150 Fairisle Carriage
This carriage is no longer made and is hard to find. It is similar to the basic carriage that comes with the machine, but it includes a different yarn feeder and a switch that allows you to knit with 2 colors on the same row.
LK-150 Intarsia Carriage
LK-150 Intarsia Carriage
Intarsia carriage that allows you to knit color blocks and as many colors in a row as you choose. The newer version of this accessory is the AG-11
LK150 Extension Instruction
LK150 Extension Instruction
Another feature of the LK-150 is the ability to extend the width of the needlebed. This Manual tells you how.
NEW: 'Must Know' Cast On Methods
You must login in to Knit It Now before viewing this content
Login
Techniques for Manual Machines
The LK-150 like the Brother 350 or other manual machines does not have a punchcard or electronics to automatically select needles for tuck, slip, fairisle or other stitch patterns. That does not limit you to plain stockinette, it just means you have to learn to select the needles for stitch patterns AND understand the levers and needle positions to create beautiful textures and patterns.

The following tutorials (and others in the Knit it Now Learning Library) may be demonstrated on a different machine, but the concepts apply to your LK-150 (or any non-automatic patterning machine).

Hand manipulation is often done on all styles of machines. Don't feel left out if you don't have automatic patterning.
Tutorials that apply to all machines
These are just a few tutorials from the Learning Library that apply to the LK-150 and other manual machines.
NEW! LK-150 Quick Start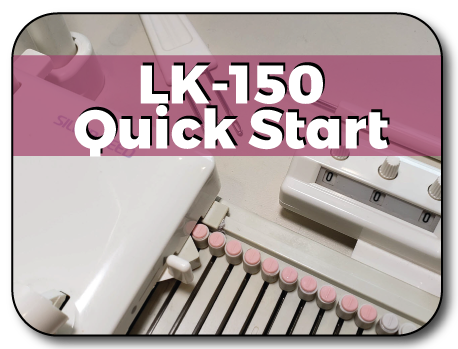 Purchase This Home Study Course
Price: $49.00
Become a subscriber today and
save 15%
on this course
Get started with your Lk-150 FAST!

Setting it up for the first time, choosing yarns, casting on, binding off, swatching PLUS projects.

Even if you've played around with your machine a bit, this step-by-step course will give you a firm footing for the next steps on your journey to master your machine. Don't just watch videos, get knitting! With the exercises and projects in this course your confidence will grow and you'll have more than just swatches to show for your knitting time
Master LK-150 Stitch Patterning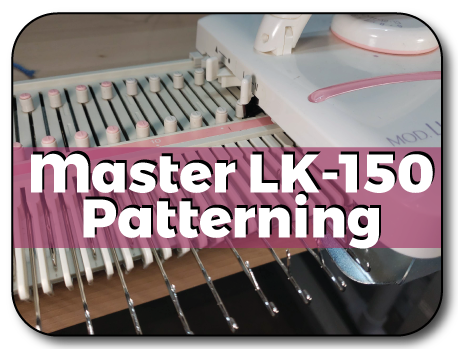 Purchase This Home Study Course
Price: $49.00
Become a subscriber today and
save 15%
on this course
Have you had your LK-150 for a bit? Can you do the basics?
Have you made swatches or items in plain stockinette? Maybe you've played with stitch patterning a bit.
This course is for you!
Be the master of your machine .. not the other way around!
See more Course details
Get Some Practice with your Machine
Join other knitters in a fun, 'no stress' project that will hone your skills with easy-to-complete exercises.
You will need to have played with tuck and slip on your machine .... ANY machine!
(you have your manual ... right?)
You will:
Gain confidence in swatching and measuring for gauge
Compare stitch pattern techniques
Learn more about stitch patterning on your machine
Practice seaming and joining
Learn and try finishing techniques
You will be knitting and assembling blocks, focusing on stitch patterning techniques. The knitting will be done in small, bite-size chunks so you can focus on the concepts, but end up with a useful blanket for yourself, a friend or someone in need.
Although designed for ANY machine, this Knit-Along is perfect for LK-150 knitters who are ready to take the next steps on their journey
... stitch patterning. If you are just getting started, we suggest the course
"Master LK-150 Patterning"
. It's designed just for you!
Follow the Knit-Along