Sleeves
Dynamic Patterns: Choose YOUR Sleeve Style
Analyzing Sweater Styles (including sleeves)
When choosing knitting patterns, the first thing to consider is the basic shape of the sweater, especially the sleeves
Consider:
Ease of knitting:
Drop shoulder, and square armholes are fast and easy to knit. Full fashioned armholes involved a little bit of shaping on both the armhole and sleeve. Raglan shaping is worked over both the armhole and sleeve. Set in sleeves involve shaping for the armholes and complicated shaping for the sleeve cap as well.


Wearer preference:
For kids, knitters often create drop shoulder or modified drop shoulder sweaters. Often adults have definite preferences. Drop shoulder, modified drop shoulder and raglan shaping are popular because they fit a wide range of body shapes. For proper fit, set in sleeves should be sized to fit the width of the shoulder.
Understanding and being able to identify basic sweater shapes is key to making good choices when planning your next sweater project.
Are you pressed for time? Select a simpler shape. Figure challenges? Choose a shape that is best for you.
For a better understanding of your choices, watch this video to examine some sleeve styles.
Great Fit!
Set-in sleeves may be the most popular sleeve style in fashion, but they can be the most challenging for knitters.

Armed with an accurately written pattern, and lots of practice, you won't hesitate to add set-in sleeves to your MK skill set.
Practice Makes Progress
Here's a basic set in sleeve pattern that you can use with any yarn and any machine! (Even Hand knitting).

Create mini or full size sleeves to perfect your shaping and seaming skills.
Knitting Patterns YOUR Way
With Knit it Now Dynamic Patterns, you can knit sweaters with the sleeve style you want!

Drop Shoulder, Square, Full Fashion, Raglan, Set-In ... choose your style along with your neckline shape and get knitting fast!

Remember with Knit it Now Dynamic Blueprints, you can use ANY machine, ANY yarn, ANY stitch pattern ... and ANY sleeve style!
Pencil and Paper Charting
Learning to chart knitting patterns is an invaluable skill in understanding pattern construction. You may not want to chart your patterns start-to-finish, but understanding how they are created can help you identify problems with patterns and allow you to make adjustments as you are knitting.
Lengthen/Shorten Sleeves
Do you find that your sleeves are always too short or too long?
We recommend measuring your sleeve length from the underarm to cuff.
Once you determine your preferred sleeve length, check your pattern and make any changes.
Use the Knit it Now Magic Formula Tools and don't worry about any math!
Using DAK
Complete Course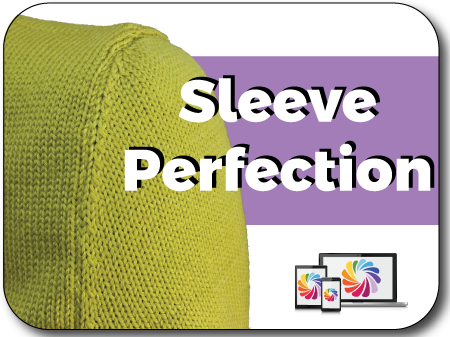 Purchase This Home Study Course
Price: $29.95
Become a subscriber today and
save 20%
on this course
Master Set in Sleeves
Do you hesitate to knit sweaters with set in sleeves? Have you struggled with them in the past?
Get focused on sleeves! Here's what to expect in the course:
Using the included Knit it Now Practice Pattern you will knit a sample armhole and sleeve
You will explore different shaping methods to perfect your knitting
You will learn multiple techniques for setting in the sleeves to the armhole
We will explore knitting and joining sleeves from the top down.
After all that practice, you will no longer hesitate to knit sweaters with set in sleeves AND you'll knit sweaters that you can be proud to wear.
LIVE Knit-Club Replay | Set-In Sleeves
Knitting perfect set in Sleeves just takes practice
3 Reasons for Ugly Sleeves (hint: it may not be your fault)
Perfect your techniques
Top Down Sleeves (love 'em or hate 'em)
Weekly LIVE shows and replays are available for Subscribers only.
LIVE Knit-Club Replay | Raglan Sleeves
Raglan Sleeve Sweaters are many knitters' favorites.
Pattern Design Differences
Construction Options (top down, bottom up)
Decorative Shaping
Don't just blindly choose and follow a pattern. Learn about how raglan patterns are written, so you can knit the perfect sweater for you!
Weekly LIVE shows and replays are available for Subscribers only.