Scarves
Basic DIY Scarf
Choose a gorgeous yarn, a beautiful stitch pattern, knit a long rectangle, and VOILA! You have a beautiful scarf for yourself, a loved one or to sell.
Why buy a scarf pattern?
No math! Use any Yarn, Machine or stitch pattern
Yarn calculator included
Perfect Fit - make it YOUR size
Basic DIY Scarf
This pattern is
FREE
Add To Your Library
You will be able to generate this pattern times in your own specified yarn gauges.
Asymmetric Swirl Shawlette/Scarf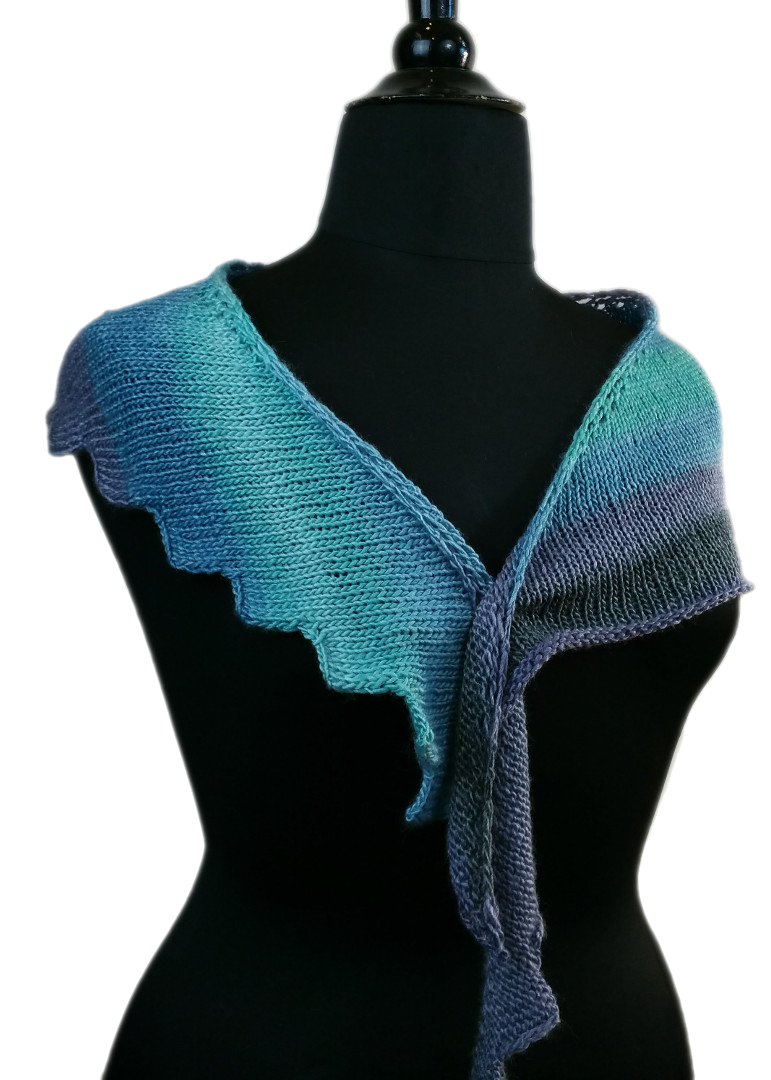 Knit in one piece, this is a quick project for a "shoulder-warmer" Shawlette.
Our sample used one 100 gram ball of a fabulous wool/silk blend. It measures approx 18" x 65"(blocked)
Kajam Alpaca Neck Warmer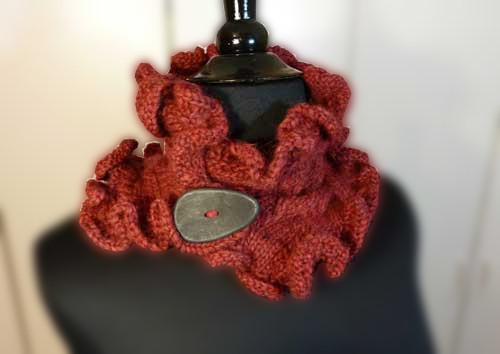 Combine hand and machine knitting for a stylish cowl that will keep you warm and toasty all winter! Features a cabled body (chart included), simple buttonhole and hand knit stockinette ruffle. Tutorial instructions are included for knitting and attaching the ruffle on the machine. Use any yarn, any machine, any gauge - Let Knit it Now do the math for you!
Any Yarn Neck Warmer
Purchase This Pattern
With the purchase of this pattern you will be able to generate this pattern 3 times in your own specified yarn gauges.
Infinity Scarf Pattern
Choose a gorgeous yarn, a reversible stitch pattern, knit a rectangle, give it a twist, join the ends and VOILA! You have a beautiful infinity scarf or cowl for yourself, a loved one or to sell.

Check out the alternating stockinette and reverse stockinette idea for a no-roll fabric on a single bed machine.
Adult Hooded Scarf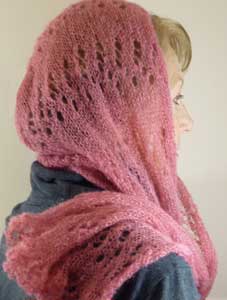 Simple hooded scarf with basic shaped hood.

If you can cast on, knit and work basic decreases and increases, you can knit this fast and easy project!

Knit in a luxury yarn or a tried-and-true washable favorite, these scarves are great as gifts or craft fair items.

Work yours in your favorite stitch patterns, or add beads for a special touch.

This dynamic pattern can be knit in any yarn, on any machine at any gauge!
Adult Hooded Scarf
Purchase This Pattern
With the purchase of this pattern you will be able to generate this pattern 3 times in your own specified yarn gauges.
Spikey Scarf
We enjoyed how they worked the construction of this pattern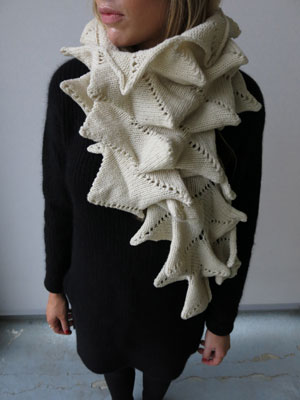 Seaming (Cowls and Infinity Scarf)
Use Kitchener stitch when creating a cowl or an infinity scarf. Working these seams on the machine is an easy way to create perfect, "seamless" joins
Put your ribber to work!
Want a quick scarf with your ribber? Try Fisherman Rib or Half Fisherman Rib (English Rib). No punchcards or programming ... just set your machine and get knitting!
Tame the Curl Knitting Curls ... PERIOD ... here are a few tips that can help
Machine Knit Asymmetric Shawlette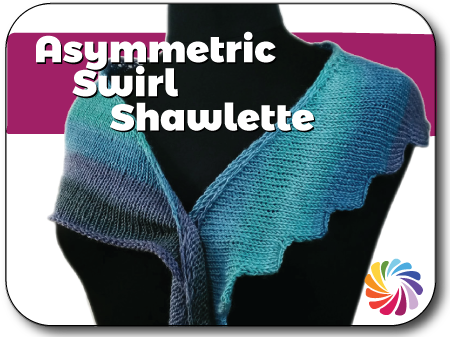 Purchase This Home Study Course
Price: $24.99
Become a subscriber today and
save 20%
on this course
Inspired by a hand knitting pattern, this adorable Shawlette/Scarf is quick to knit and uses a small amount of yarn.
Great gift idea and stash buster, it can be knit on any machine.
If you can count to 8, cast on and bind off ... you CAN KNIT THIS!
Included:
Easy to use tool that will help you determine how much yarn you will need for the size you want to knit.
Pattern to knit in any yarn AND on any machine
Tutorials for all the techniques used to knit our shawlette
Start to finish video
Ribber Basic Bootcamp
Purchase This Home Study Course
Price: $49.95
Become a subscriber today and
save 50%
on this course
IMHO, knitting scarves with a ribber is the only way to go! No worries about curling and you have so many stitch pattern options, with minimal fuss.
Not comfortable with your ribber? Scarves are a great confidence builder.
Master your ribber in 30 days with the Knit it Now Ribber Basic Bootcamp.
If you've never used your ribber, or you've never used it for more than 1x1 ribbing, this course is for you!



Open yourself to a whole new world of machine knitting! Create gorgeous fabrics, learn to knit in the round and challenge yourself with techniques that will make you look like a pro!



Think of using your knitting ribber as using 2 knitting machines. Can you tuck and slip and work short rows on your machine? Then you can do these things on the ribber.



The clear, detailed, step-by-step tutorials walk you through mastering your ribber and will re-ignite your passion for your knitting machine!
Learn More
5 Star Style
Inspiration from the fabulous knit design group at Knit-1!
Incorporate a simple star motif to knit a gorgeous scarf or cowl
PLUS
instruction for a beautiful pullover sweater, Bobble Hat, and a Pooch Sweater to keep the family dog toasty this winter!
Entrelac Scarf
Why should hand knitters have all the fun? Machine Knit an Entrelac scarf. Knit on any machine, at any gauge. No stitch patterning!
Entrelac is an technique that creates knitting that looks like woven strips. It is no more tedious to work in the machine than by hand. Use self striping yarn for fabulous results!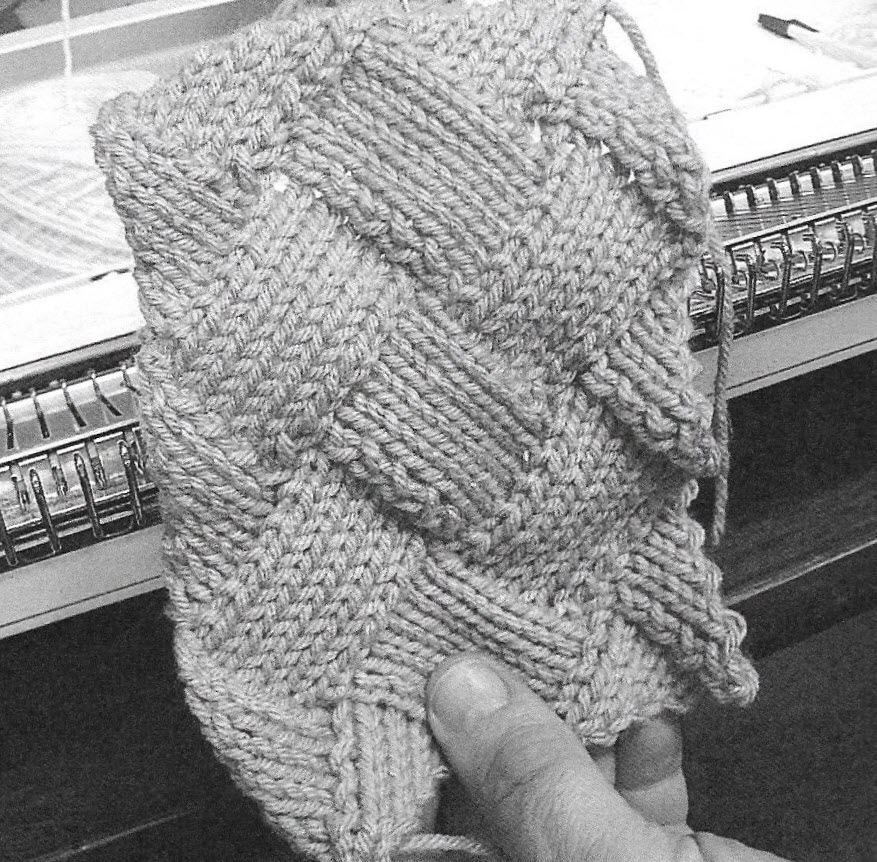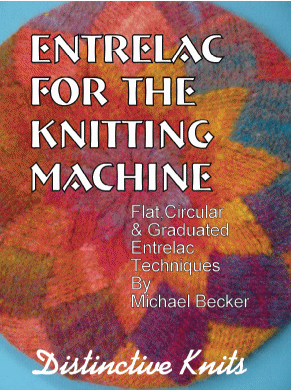 Order your Printed Copy
Entrelac Scarf Inspiration
Ribber Workshop
Put your Ribber To Use!
This printed book includes both scarves and hats
Crossover 1x1 Ribbed Scarf
Tuck 1x1 Ribbed Scarf
Drop Lace Scarf
Circular Rib Scarf
Drop Lace Rib Infinity Scarf
Ribbed Entrelac
Infinity Scarf - Get Knitting!
Knit a no-roll, reversible, seamless scarf on your single bed machine. Included are 3 techniques for turning your work to create texture and to conquer the "dreaded stockinette curl".
Ramona Phoenix Cowl Kit
Knit this beautiful, colorful cowl on your machine
Discover fabulous colorwork with this beautiful jewel-tone gradient cowl.

This exclusive kit is a reinvented popular pattern now made in worsted-weight yarn for faster results!

Although the HK pattern is knit in the round, you can knit the cowl flat and neatly add a seam.


100% Reversible Scarf
Put your ribber to use with the full-needle rib scarf.
Curious about full needle rib or haven't used it for a while? Here's a quick project that is good for practice, and you'll have a warm, beautiful scarf to wear!
Magic Racked Scarf
Looking for a completely reversible scarf? Use the Racking Magic stitch pattern on your ribber for a lightweight, open work scarf that is sure to please!

All it takes is a little dedicated knitting time (no interruptions for this one). The actual knitting is quick. You will have a FO (finished object) in no time!
Ribber PomPom Scarf
Here's a fast and updated scarf style that is sure to please! Grab a beautiful yarn, dust off your ribber and you'll be done in no time!

Subscribers: The Quick Win includes tutorials for the techniques used for this fabulous scarf project.