Ribber
What's a Ribber?
Picture this:
You have a knitting machine with 100+ needles.


You use a carriage to quickly knit 100+ needles with the pass of the carriage


Imagine cloning that needlebed, turning it 180° and positioning the needles facing each other.



Now you have a setup that can not only create purl stitches, but knit stitches as well.
That the basic idea of a knitting machine ribber.
Imagine being able to knit k1, p1 ribbing with the pass of the carriage ... but wait! There's so much more!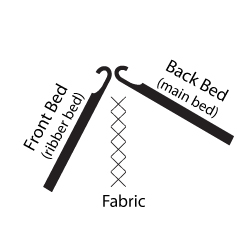 A bit of advice:
If you are just getting started with machine knitting and have a ribber, be kind to yourself and take this advice.

Put the ribber aside for a while ... master the single bed BEFORE adding the ribber to the equation.

Learn and understand the settings for your machine. Practice with a few different yarns, learn to read and follow patterns ... get some successes under your belt before adding the ribber.

Trust me .... been there ... done that
Cast on Bind Off
There are many methods for both casting on and binding off when working with the double bed.

Your best bet is to try multiple techniques and determine which work for you.
Troubleshooting Tips
You must login in to Knit It Now before viewing this content
Login
Ribber Basic Bootcamp
Purchase This Home Study Course
Price: $49.95
Become a subscriber today and
save 50%
on this course
If you've never used your ribber, or you've never used it for more than 1x1 ribbing, this course is for you!

Open yourself to a whole new world of machine knitting! Create gorgeous fabrics, learn to knit in the round and challenge yourself with techniques that will make you look like a pro!

Think of using your knitting ribber as using 2 knitting machines. Can you tuck and slip and work short rows on your machine? Then you can do these things on the ribber.

The clear, detailed, step-by-step tutorials walk you through mastering your ribber and will re-ignite your passion for your knitting machine!
2x2 Ribbing Course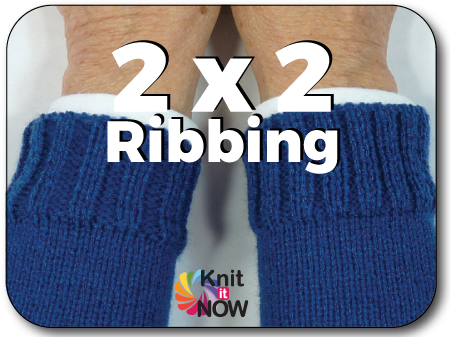 Purchase This Home Study Course
Price: $24.99
Become a subscriber today and
save 25%
on this course
Dust off that ribber! Have you ever struggled with casting on for 2x2 ribbing?
The traditional instructions in our manuals have lots of steps. Skip one and .... disaster!
Learn a quick and easy way to cast on in any needle setup.
Practice techniques for perfect ribbing. From Seaming to bind off methods
Practice the beautiful tubular cast on (AKA Kitchener Cast on) with a printable cheat sheet to help you keep on track
Learn and practice 2 practical bind off methods
Put your new skills to work in knitting a "Messy Bun" hat
Up for a challenge? Learn an exciting 2 color Corrugated Rib technique
Subscriber Knit-Alongs
Ribber Knit-Along 1
Maybe you've played with your ribber, but it is still intimidating
Have you've only used it for 1x1 ribbing on cuffs? .... OMG! There is sooo much more you can do!
Let's dust off that machine, give it a little oil (and love) and get knitting!
Ribber Knit-Along 2
Build on the skills learned and practiced in Ribber 1
Racking
Shaping in ribbing
Short Rows (partial knitting)
Live Knit Club
Maybe you're considering purchasing a ribber for your machine or maybe you have one and haven't used it.

Let's talk about how adding a ribber to your MK setup can expand your horizons.

Did you know you can do much more than plain 'ol 1x1 ribbing?
Weekly LIVE shows and replays are available for Subscribers only.
100% Reversible Scarf
Put your ribber to use with this full-needle rib scarf.

Curious about full needle rib or haven't used it for a while?

Here's a quick project that is good for practice, and you'll have a warm, beautiful scarf to wear!
Magic Racked Scarf
Looking for a completely reversible scarf?

Use the Racking Magic stitch pattern on your ribber for a lightweight, open work scarf that is sure to please!
Ribber PomPom Scarf
Looking for a FAST project? Dust off your Ribber and get knitting!
English Rib Ear Warmer
Quick Project for your ribber. Use English Rib (or any ribbed stitch pattern) for a soft and stretchy ear warmer.

Start and finish FAST, with 2 suggestions for practically no finishing/
Fisherman Rib Blanket
Updated, colorful and fun, this one-piece blanket is sure to please!

Knit in a self striping yarn in Fisherman rib and you'll be done in no-time!

Dust off your ribber and get knitting!
Man's Knitted Tie
Knitted ties are classic!

If you have some experience with your ribber, making them on the knitting machine can be a fun, quick project.

A nice tubular cast on, a simple ribber stitch pattern (we used tuck rib), a bit of Kitchener grafting and voila.... you have an instant gift, craft fair or boutique item.
Fabrics, Trims, Hems and more!
As you can tell there is sooo much you can do with the ribber.
Check out Ribber 2 Classroom