click to enlarge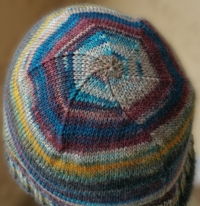 See other knitters successes
Hat XSMLX sizing chart
This is a shaped crown hat with tradition spiral decreases. The decreases can be done with a garter bar, or you can manually transfer the stitches. The shaping is completed over 2-3", so it's not that much hand manipulation and the result is worth it!
Included is a detailed video of the shaping sequence.
Please login to view this tutorial
An active membership to Knit It Now is required to view this tutorial
But access to this video is provided with purchase of this pattern
---
Material Needed
100 gram (3.5 ounce) of worsted weight yarn should be sufficient for an adult hat.