click to enlarge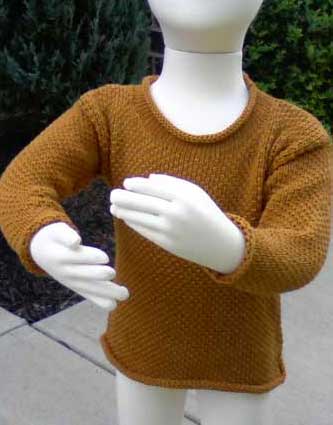 See other knitters successes
Child's Simple Rolled Neck Pullover
by Knit it Now
Ease: Loose
Child Sizes sizing chart
Simple rolled neck pullover - quick, easy knitting. Shaped sleeves knit from the shoulder down. Lots of ease through the body.
The original is shown in a 2 row tuck that mimics seed stitch.
Knit this adorable shape in any stitch pattern ... in your choice of yarns!
---
Pattern Elements (4 pieces)
Back
Front
Neck Band
Long Sleeves
This pattern is
FREE
Add To Your Library
You will be able to generate this pattern 3 times in your own specified yarn gauges.
You must login frist
Easy
Supporting files (2 items)
Image Chart
Tuck Stitch Chart
DesignaKnit Stitch File
2 Row Tuck

Subscribers have NO limits on the number of times they can build this pattern