click to enlarge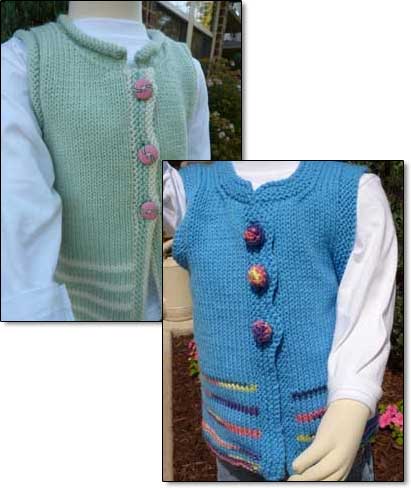 Cardigan
Kids
Round Neck
Sleeveless
Child Sizes sizing chart
Child's vest with variations. Choose girl-y colors and knit a picot hem and rolled bands. Choose guy colors with a plain hem and simple bands. All instructions are included.
---
Material Needed
Choose a washable wool, 100% acrylic or a wool/acrylic blend for easy care. Size 2 took 150 grams of Jaggerspun Superlamb 4/8

Purchase This Pattern
With the purchase of this pattern you will be able to generate this pattern 3 times in your own specified yarn gauges.
Members have NO limits on the number of times they can build this pattern
GET A FREE Pattern
Share your email address and try a FREE pattern on us.
Join