click to enlarge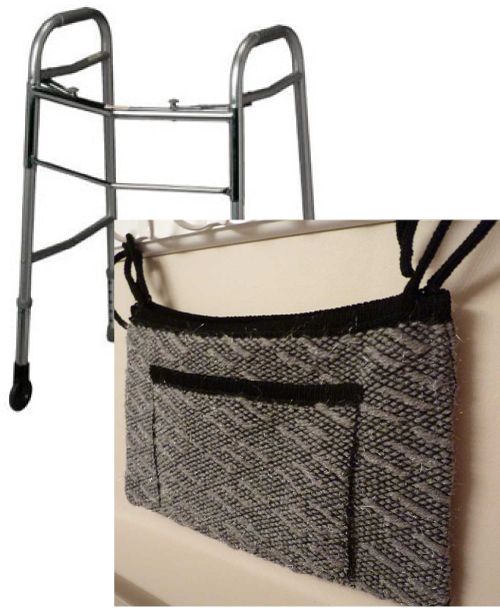 by Victoria Zeits
One Size sizing chart
Walker bags are used by those whose balance requires a walker for safety, but need extra carrying room for their knitting, books, etc.
This clever bag ties onto the bar of the walker, or can be adapted for use anywhere you need additional pockets to carry things as you move around.
Knit the bag in any gauge and with any stitch pattern.
The sample is designed with a diagonal knitweave pattern. The knitweave creates a strong, stable fabric that will hold up to frequent use. Small amounts of yarn are needed. Great for using up leftovers.
Good Beginner project!
5 tutorials are included covering the techniques used to make this useful bag. Get your creative juices flowing to design purses, backpacks or bags of any kind!
Tutorials included:
Marker Row
Hung Hem
Reverse Hung Hem
I-Cord
Crochet Cast on
---
Material Needed
Original Pattern was knitted in 2 gauges:
Bulky Gauge Red Heart Soft - 100% Acrylic - Worsted Weight - 4 ounces used
Lion Brand Homespun (weaving yarn) - Acrylic/Poly - 2 ounces used
____________________
Standard Gauge
Tamm Diamante Acrylic/Nylon - 2133 YPP 4 ounces used
Red Heart Worsted Supersaver Multi - 100% Acrylic - 2 ounces used


Purchase This Pattern
With the purchase of this pattern you will be able to generate this pattern 3 times in your own specified yarn gauges.
This pattern is
FREE
with a yearly subscription to Knit It Now
Easy

Subscribers have NO limits on the number of times they can build this pattern