click to enlarge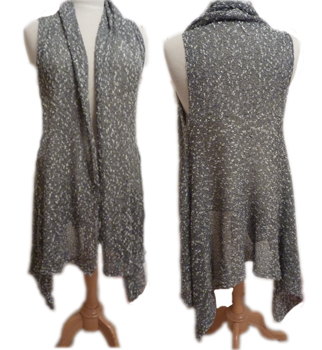 Cardigan
Misses
Sleeveless
See other knitters successes
S-M-L-XL-PL sizing chart
Can you knit rectangles? This vest is for you! Knit it with a loose, lightweight yarn with good drape. The fronts fall into soft folds and the back length is flattering for all figures.
Use these simple shapes as a palette for beautiful stitch patterns (think tuck lace, fashion lace or needles out of work). Employ a textured yarn and let the yarn do the work!
Vest is designed to be worn open.
Finished bust 40(44.5,50,56,63)" For more front drape, choose a size larger than your actual bust measurement.
Finished bodice back yoke width 12(13,14,15,17)" Back yoke does not come to the waist.
Please login to view this tutorial
An active membership to Knit It Now is required to view this tutorial
But access to this video is provided with purchase of this pattern
---

Purchase This Pattern
With the purchase of this pattern you will be able to generate this pattern 3 times in your own specified yarn gauges.
This pattern is
FREE
with a yearly membership to Knit It Now
Members have NO limits on the number of times they can build this pattern
GET A FREE Pattern
Share your email address and try a FREE pattern on us.
Join