click to enlarge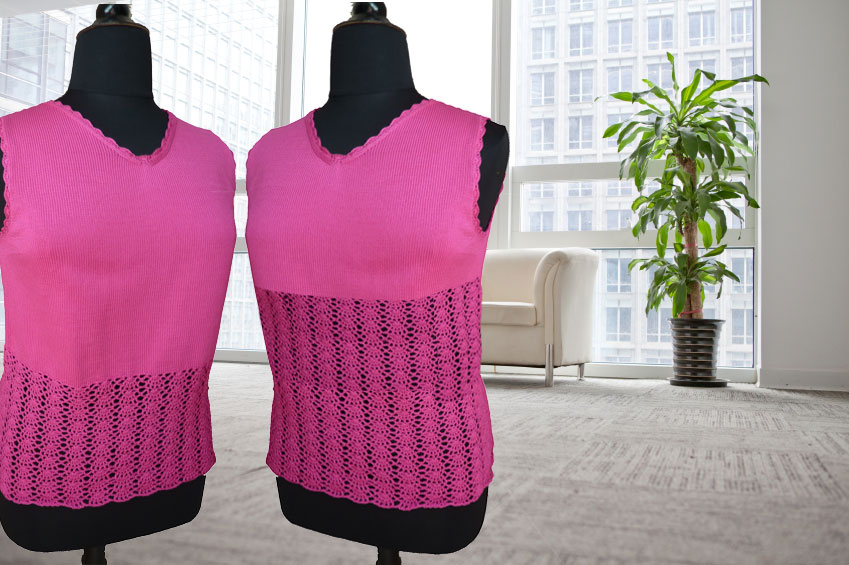 See other knitters successes
Split Personality
by Knit it Now
Ease: Loose
Misses Sizes sizing chart
Misses sleeveless pullover.
Features:
Your choice of round neck of V-neck
2 bodice lengths. Empire or waistline seam
Designed to use 2 stitch patterns (different gauges) with no math!
Raised armholes for modesty under the arms (check your preferred armhole depth)
Necklines and armholes are designed for an "unfinished" look - use crochet, I-cord trim or any simple machine knit edge (or add bands if you like)
---
Pattern Elements (8 pieces)
Empire Skirt
Empire Back
Empire V Neck
Empire Round Neck
Waist Length Skirt
Waist Length Back
Waist Length V Neck
Waist Length Round Neck
Purchase This Pattern
With the purchase of this pattern you will be able to generate this pattern 3 times in your own specified yarn gauges.
Advanced Beginner
Supporting files (3 items)
Image Chart
Crochet Neckline
Crocheted Back
Shell Edging

Subscribers have NO limits on the number of times they can build this pattern