click to enlarge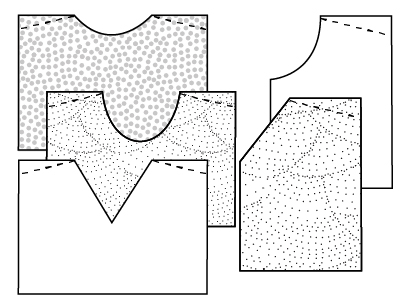 Practice Necklines
by Knit it Now
Ease: no value
One Size sizing chart
Use these practice necklines to learn neck opening techniques and to refine your skills in attaching neckbands.
Included are 2 round neck depths and a v-neck with both sloped and straight shoulders.
Use these practice necklines with your machine, yarn and gauge.
Watch the Knit it Now videos for techniques for knitting these necklines.
Use these samples to practice knitting bands.
---
Pattern Elements (9 pieces)
V Neck Cardigan
Round Cardigan
Practice Back Neck
Practice Round Front Neck
Full Size Back
Full Size Round Front Neck
Full Size V Neck
mini Back Neck
mini Round Front Neck

Purchase This Pattern
With the purchase of this pattern you will be able to generate this pattern 3 times in your own specified yarn gauges.
This pattern is
FREE
with a yearly subscription to Knit It Now
Advanced Beginner

Subscribers have NO limits on the number of times they can build this pattern