click to enlarge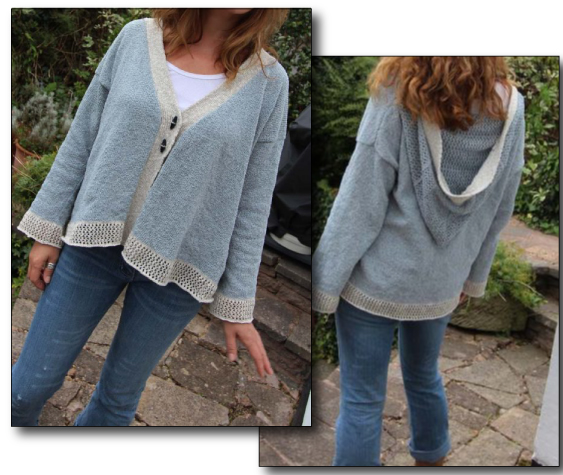 Cowgirl Hoody
by Modern Knitting Patterns
Ease: Oversized
Woman XS - XXL sizing chart
This oversized, comfy designer Hoody is a year-round treat! It is hip length with contrasting bands. Marianne used a simple lace pattern for the hems and hood.
The pattern is written so you can substitute any yarn and stitch pattern to make it your own.
Read an interview with the designer
---
Pattern Elements (9 pieces)
Lace hem
Back
Back Half
Front Lace Hem
Front
Lace Sleeve Cuff
Sleeve
Hood
Band
Purchase This Pattern
With the purchase of this pattern you will be able to generate this pattern 3 times in your own specified yarn gauges.
Advanced Beginner
Supporting files (3 items)
Image Chart
Brother 17M card
Full Size Lace Punchcard
hood detail

Subscribers have NO limits on the number of times they can build this pattern