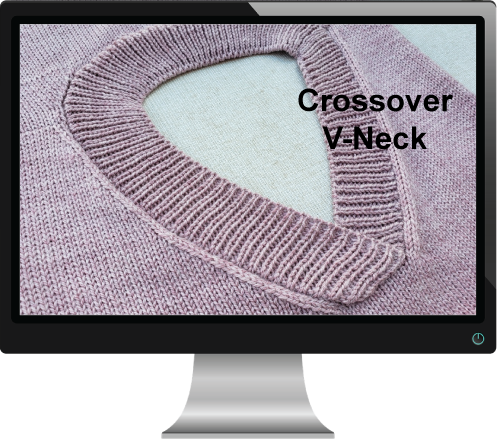 This Subscriber Knit-along features a classic band for a V-Neck pullover.
This is an alternative to a
mitered band
This style is easier for machine knitters.
Join us to learn and practice skills that you will use again and again:
How to shape a V-Neckline including a variety of decorative decreases
How to neatly join shoulder seams
How to calculate a neckband
How to plan a neckband for beautiful seams
How to pick up and attach a separate neckband
How to neatly finish the Crossover V
No ribber? No problem!
The material presented will be helpful in creating v-neck bands with any method.
Hand manipulate the ribbing
Check out our rolled edge stockinette band
Replays
Oct 13 LIVE
Oct 20 Zoom
Knit-Along Outline
Recorded Live Events
Wednesday
Kick Off Event
Wednesday

---
Wednesday
Crossover V Knit-Along
Wednesday

---