Are you interested in knitting this unusual shawl/cowl/sweater design ON THE MACHINE ?
Purchase This Home Study Course
Price: $35.00
Become a subscriber today and
save 20%
on this course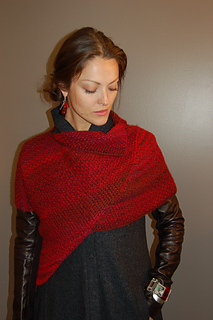 "..... it's not a cape, not a poncho, not a shrug, not a shawl, not a cowl. It's small enough to wear under a coat but big enough to wear instead of one. And it envelops us in style."
designer, Sally Melville


Knit-along anyone?
If there is enough interest we will put together a Knit-along so you can knit this fabulous L'Enveloppe on the machine.

Included will be a Dynamic Pattern so you can use ANY Yarn, ANY Machine and ANY Stitch Pattern. Plus detailed instructions for machine knitting.
Join us for a L'Enveloppe Knit-along!
The Goal
Knit this gorgeous L'Enveloppe on the machine with your choice of yarn on your machine.
Topics
Practice "translating" a hand knitting pattern to machine knitting
Stitch pattern substitutions
Estimate yarn needed
Knitting methods for unusually shaped pieces
Finishing suggestions and tips
The Plan
2 "Watch Party" Workshops over 2 weeks
LIVE and Recorded
Day 1 - Make Decisions and Get Knitting
Day 2 - Finishing and more Inspiration
All Watch Parties will be recorded and be available with your course materials.
Sizing Details:
Bust 32-50" (81 - 127cm)
Length (shoulder to longest edge of front) 21-25" (53.5 - 63.6 cm)
The Cost
$35 for the course, the Pattern and the knit-along