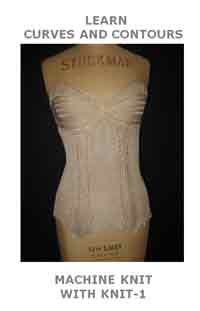 Learn Curves and Contours
Take your machine knitting to the next level! This book looks at knitting curves and contours using fashion stitches and short rows in combination.

These techniques incorporate subtle changes of direction of the knitting within the garment piece, reducing or creating extra dimension and shaping.
$27.95
each
Put Up: eBook

Digital Download
Learn Contemporary Cables
Using historical and traditional cable examples, this detailed book is jam-packed with techniques that incorporate cables in new and fresh ways.

Traveling cables, changing the direction of cables, using cables in seams ... and much, much, more!
$27.95
Put Up: eBook

Digital Download