Seraina Yarn Blowout
Super-soft Seraina is simply stunning!

The yarn is composed of a very delicate, semi-transparent knitted tube filled with colored, airy nylon for a special color effect and outstanding lightness and volume. The beautiful color sequences result in striking geometric patterns when knit.

Light weight, cool, and breezy Seraina is composed of Modal rayon and nylon, perfect for warmer weather or days inside air conditioned offices.

This yarn knits beautifully on any gauge machine, and has great resilience. Machine washable too!
60% Modal viscose fiber, 40% Nylon
5 stitches per inch
US 9 needle
50 g ball is 142 yards (great yardage!)
Machine wash
Standard Machine Tension 10 = 28sts/42rows
Mid-gauge Machine Tension 3 - 23sts/40rows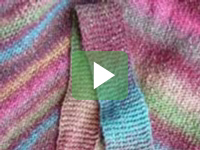 Don't like how these yarns "pool"? Watch this
Reg $11.95 - Now $6.95

Look for the
Seraina Summer Tee Pattern
= in both Misses and Women's Sizing.
The summer tee requires 7-10 balls