This yarn is dyed with pure indigo. The nature of true indigo is that color releases from the yarn when washed. It is essential that the garment be washed before wearing. Each time it is washed, it will fade as is the nature of true indigo. Wash your test swatch before measuring.
This yarn is no longer available
Suggested Replacement Yarns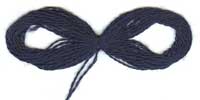 Jaggerspun Superfine Merino 2/18
Superfine Merino, made from fine Austrialian Merino Wool, is a soft, elegant yarn that has traditionally been used in creating garments of the highest quality.
It is a true luxury yarn.
$96.00
per pound
Colors: 3
Weight: Lace Weight
Multi strand - fine, standard or mid/Bulky Gauge
Yardage: 5040 ypp
Put Up: Cone(s)
Member Bonus
Vintage Yarn Index
Extra Fine
Weight:
?
YYP:
Yards:
OZ:
Fiber Content:
Tension:
Machines:

Receive unlimited access to the Yarn Index with your annual membership to Knit it Now
Become a Member Today
Included are all yarn details PLUS replacement suggestions by yards per pound.