When choosing a sweater style the first consideration is the armhole / sleeve style.
Looking at any knitting pattern or even ready-to-wear sweaters, it's important to be able to recognize the basic shape.
Let's explore some common armhole/sleeve styles and the features of each in terms of knitting skills needed and fit.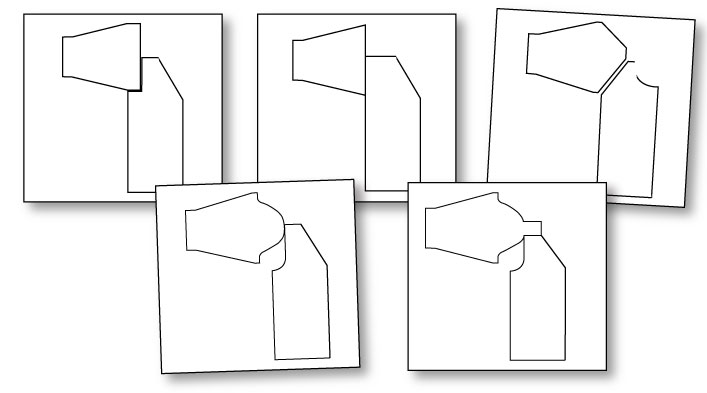 1

Dropped Shoulder

The easiest sleeve style, the dropped shoulder sweater has no armhole shaping.
The sleeves can be picked up and knit down or knit from cuff up and joined with a simple seam.

Because of the shaping, there can be extra bulk under the arms.

Producing a casual sweater, this style works for quick kids and adult sweaters.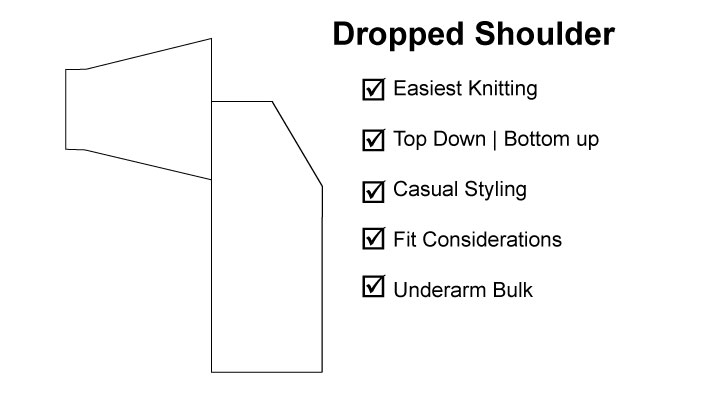 ---
Looking for a Quick Win?
Maybe you haven't had success knitting sweaters, or maybe your 1st sweater was a bit ambitious for you.
This easy-to-knit sweater is the perfect confidence booster. No matter what your experience level, use this pattern as a canvas for your creativity.
The course includes the Dynamic, Perfect Fit pattern in 4 sizes: kids to adults. The patterns are written in our interactive style. Included are detailed, step-by-step videos to help you knit your one-of-a-kind sweater (and enjoy success!)
Do you use and LK-150? The start-to-finish videos were recorded on your machine.
2

Square / Modified Dropped Shoulder

This style is also easy knitting.

Simply create an armhole with bindoffs and carefully "set in" the modified sleeve cap.

Also creating a casual sweater, this style has less bulk in the underarm and offers a better "fit".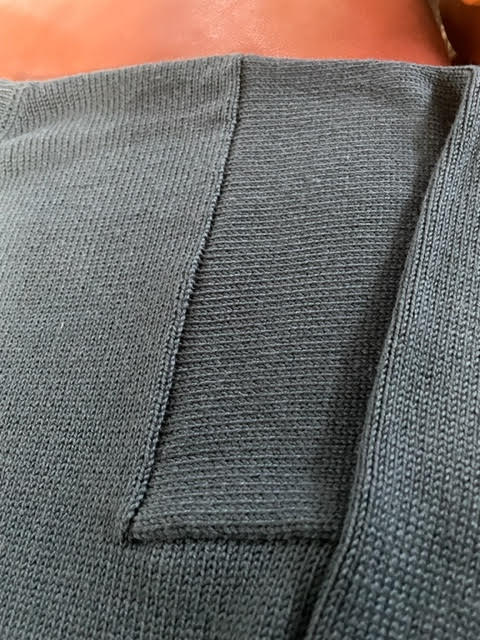 Beautifully executed square armhole by Jude B
3

Set in Sleeves

The classic styling of set in sleeves offers the best fit.

The armhole shaping is fairly straight forward (bind off and decreases), but the sleeve cap shaping is more detailed.

Setting in the sleeve cap to the armhole can also prove to be a challenge.

Don't hesitate to knit a set in sleeve sweater, but take time to practice the techniques needed for success.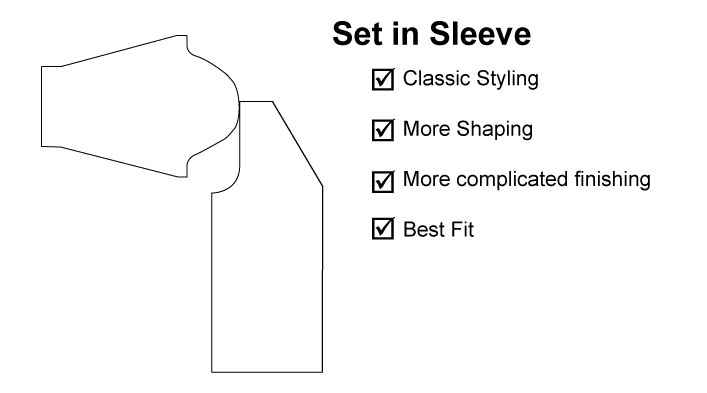 ---
Need help with Set in Sleeves?

Check out the complete Course: Set in Sleeve Perfection
4

Saddle Shoulders

A popular variation of set-in sleeves are Saddle Shoulders.

The final bind off of the top of a standard set in sleeve is extended to the neckline.

The front and back body pieces are altered accordingly.

The biggest advantage of this style is the opportunity to carry a stitch pattern up the center of the sleeve carrying it all the way to the neck opening.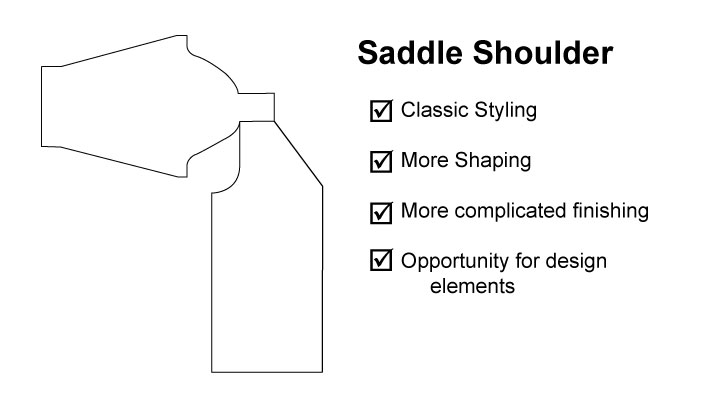 5

Raglan Sleeves

Another popular sleeve style places diagonal seams between the body of the sweater and the sleeve top.

This style has the most armhole/sleeve shaping and the pieces can be knit top down or hem up.

The raglan shaping offers an opportunity for creative design elements along the seams.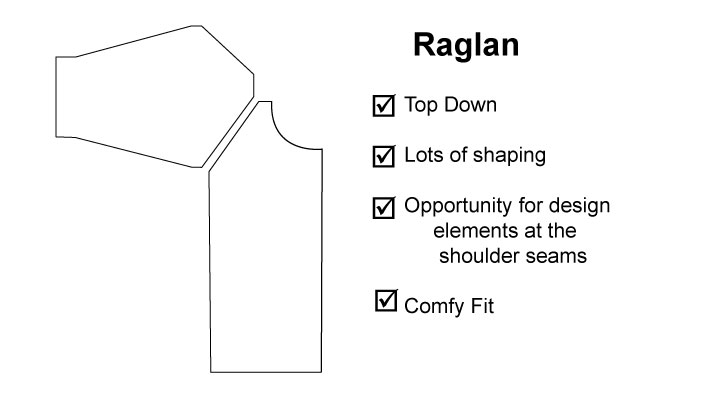 ---
Discover an unlimited number of decorative seam decreases for raglan sweaters. Mix and match techniques to create plain or fancy raglan seams.
Simple decreases
Transferred decreases
Eyelet decreases
Fancy decreases
Seaming Tips
Written instructions, charts, diagrams and knitted samples for each technique
22 pages
Why identify sleeve styles?
Determine if a pattern will be comfortable for you (we all have our favorite styles)


Substitute a Knit it Now pattern for a hand knitting pattern or ready-to-wear inspiration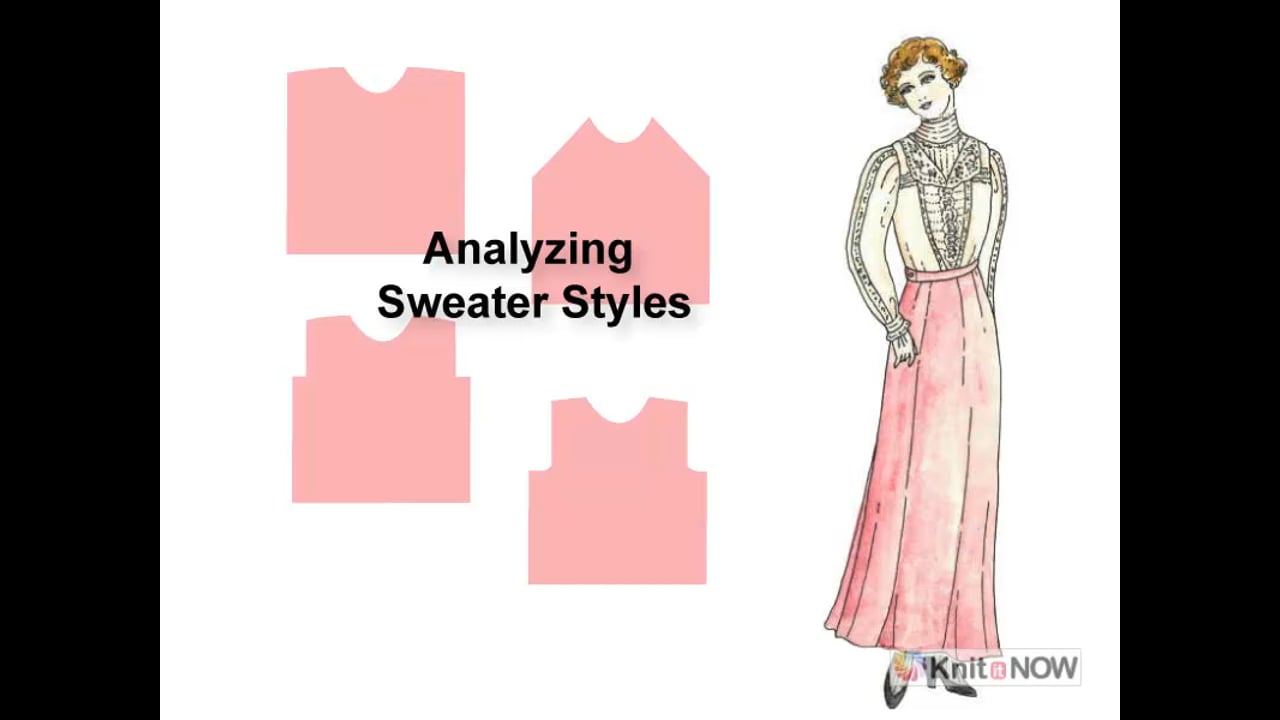 Watch the video "Analyze Sweater Styles"
---
3 COMMENTS
Very timely blog topic. I will be doing the sleeve exercise or classrooms agin, soon.
Thank you, Sue.
---
Search the Knit it Now Pattern Library for your size (Misses or Women' Plus) Look for the sleeve style you want (drop shoulder armholes may be what you are looking for) With our patterns you can use ANY yarn | ANY Machine | ANY stitch pattern
---
Please recommend a knitting pattern for a woman's cardigan in DK cotton in which the sleeves are worked from the armhole down.
---