What is Ravel Cord?
A smooth, strong cord for use in many techniques. Also called rip cord or cast on cord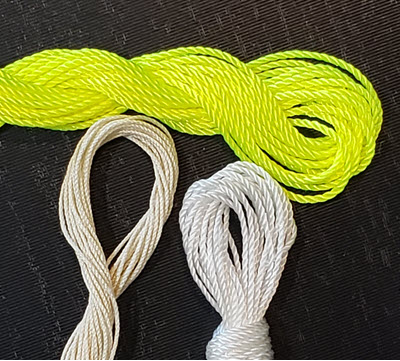 1

What is Ravel Cord?

Ravel cord should always be a hard finished smooth yarn such as silk, crochet cotton, or dress yarns.
While silk cord is expensive it can be reused indefinitely and slides out of the stitches quite easily.
Crochet cotton is cheap, readily available in many colors, and slides out of the stitches nearly as easily
Avoid fuzzy ravel cords as they can Ieave lint in the knitting and are more likely to break as the ravel cord is pulled
Choose a color that is markedly different from both the waste yarn and the main yarn.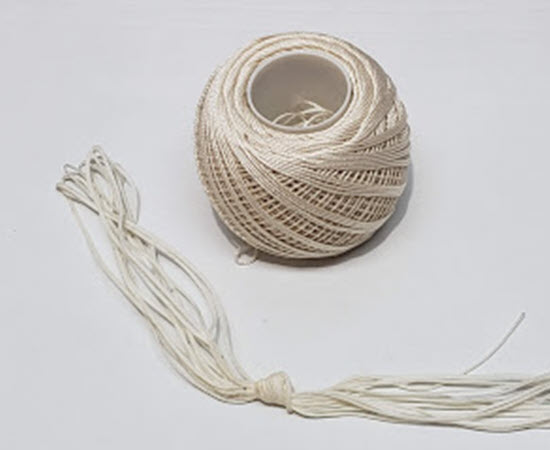 by Angela Scarola
(used with permission)
2

Scrap and Ravel Cast on

(Provisional Cast on)

Machine knitters are often instructed to use

waste yarn

and

ravel cord

to cast on. It is a useful addition the machine knitters bag of tricks.

Provisional cast on and waste yarn are the hand and machine knitters terms for the same process.

In both cases,

the knitter wants "live" stitches on the cast on edge to use later in some fashion.

Machine Knitters use the

"scrap and ravel"

method of casting on to obtain live stitches.
Knit a few rows with "waste yarn"
Knit one row of ravel cord
Switch to the main yarn and continue knitting
You can then pick up the "live" stitches to join or finish the edge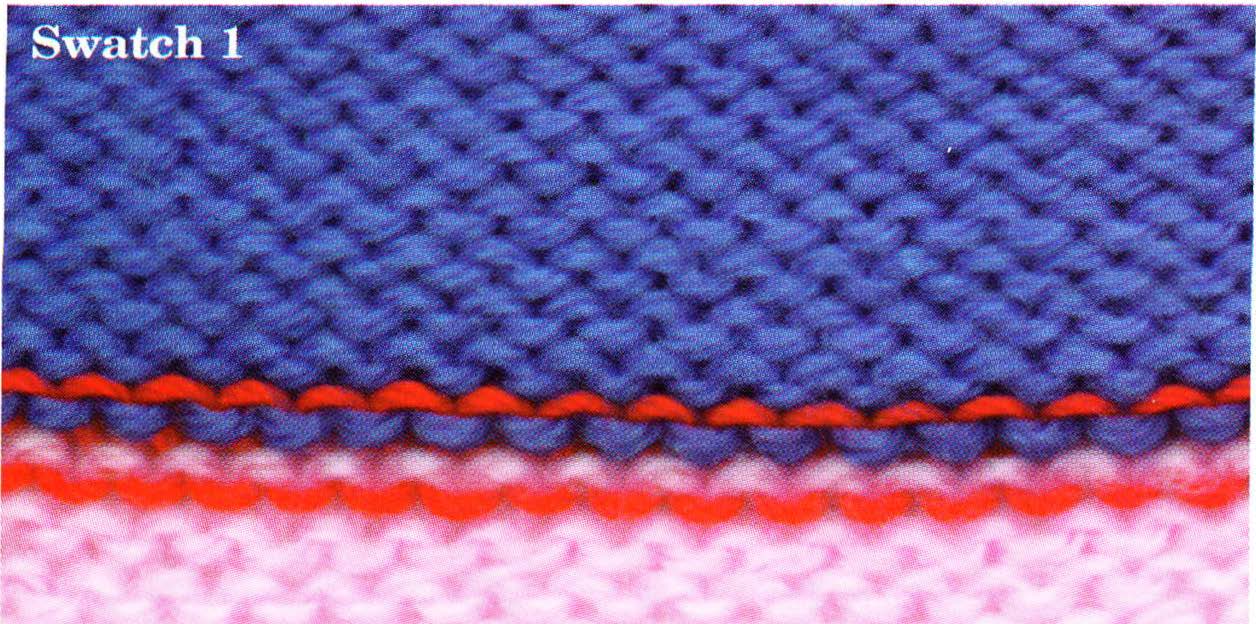 3

Waste Yarn

(Scrap Yarn)

Waste Yarn

can be any yarn that has little or no value to the knitter
Fuzzy, ugly, cheap, biasing, or just plain left over
It can be unraveled and reknit until it shreds, or disposed of after one use
Use a different color from the main yarn so that the main yarn stitches are easily seen
It should be similar in weight to the main yarn
4

Cast on Rag

Want to save time/yarn? Make permanent

cast on rags.
Loosely cast on over your full needlebed. Knit a few rows and loosely bind off
Quickly knit a Bias Cast on rag
Try a few rows of double crochet
Really in a hurry? Mesh produce bags (or any loosely woven fabric) can be hung over the needles and knitting starts immediately
Grab a swatch or piece of scrap knitting and hang it on the needles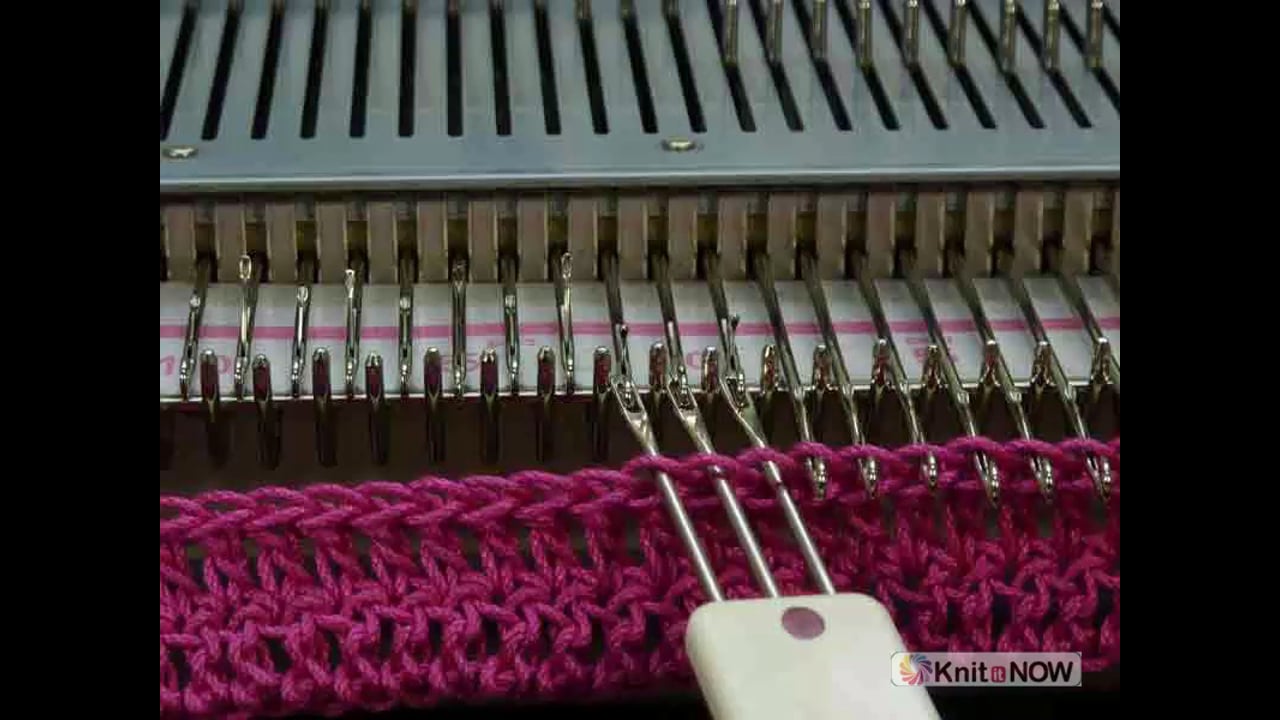 5

Remove Ravel Cord

There are two ways of retrieving the stitches from the waste yarn and ravel cord.
If the yarn is very stable such as wool, remove the ravel cord and pick up or hang the open stitches.


For unstable yarns, fold the waste yarn out of the way and hang the visible main yarn loops on the machine; hand knitters can use a small diameter knitting needle to pick up the stitches.
Ravel cord can be removed before knitting starts or after knitting is done.
Removal of the ravel cord is easy.
Simply grab one end of the ravel cord and pull hard; the ravel cord will slither out of the knitting. The waste yarn falls away and there is no need to pick out stitches.
This is the magic of ravel cord.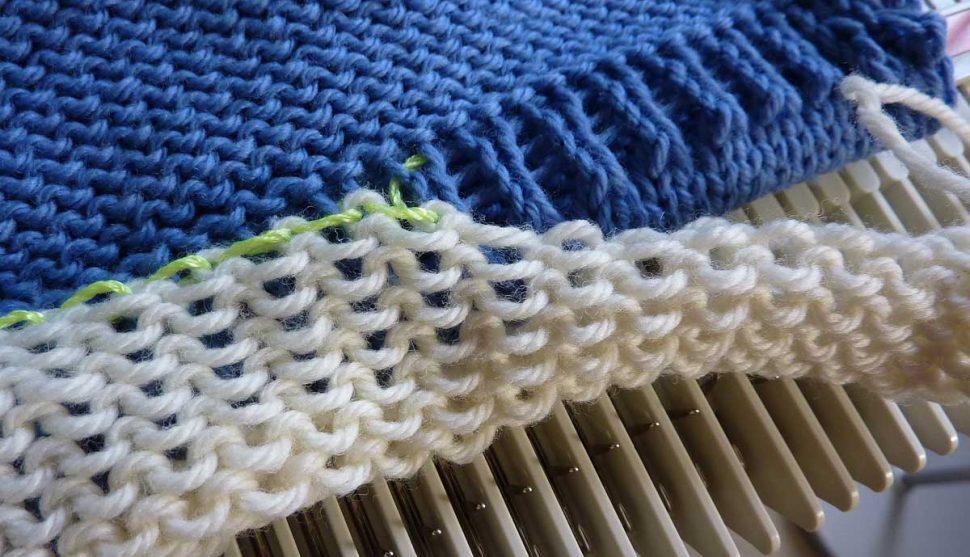 6

More Uses for Scrap and Ravel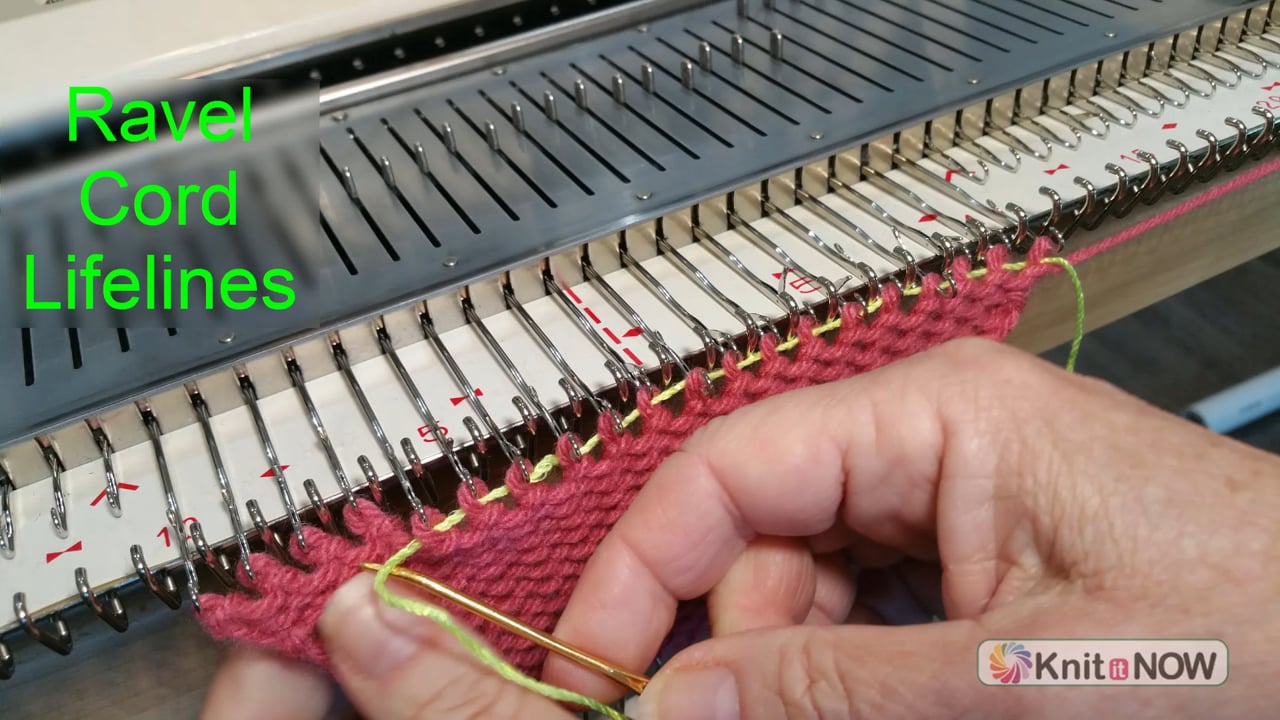 Ravel Cord Lifeline
---
Some machine patterns like lace need to be weighted and cannot be worked next to the cast on edge. By using waste yarn/ravel cord and a permanent cast on, weights can be hung in the waste area and patterning can begin immediately.


Protect delicate fibers from a cast on comb or weights by casting on with waste yarn and ravel cord
Scrap and Ravel Cast on
---
Ribbing on the machine tends to be wavy as it comes off the machine and even the best steaming job does not resolve all the waviness.
Using waste yarn and ravel cord will result in a straight even edge with no waviness.


For ribbing, use ravel cord as an alternative for a "Broken Toe" Cast On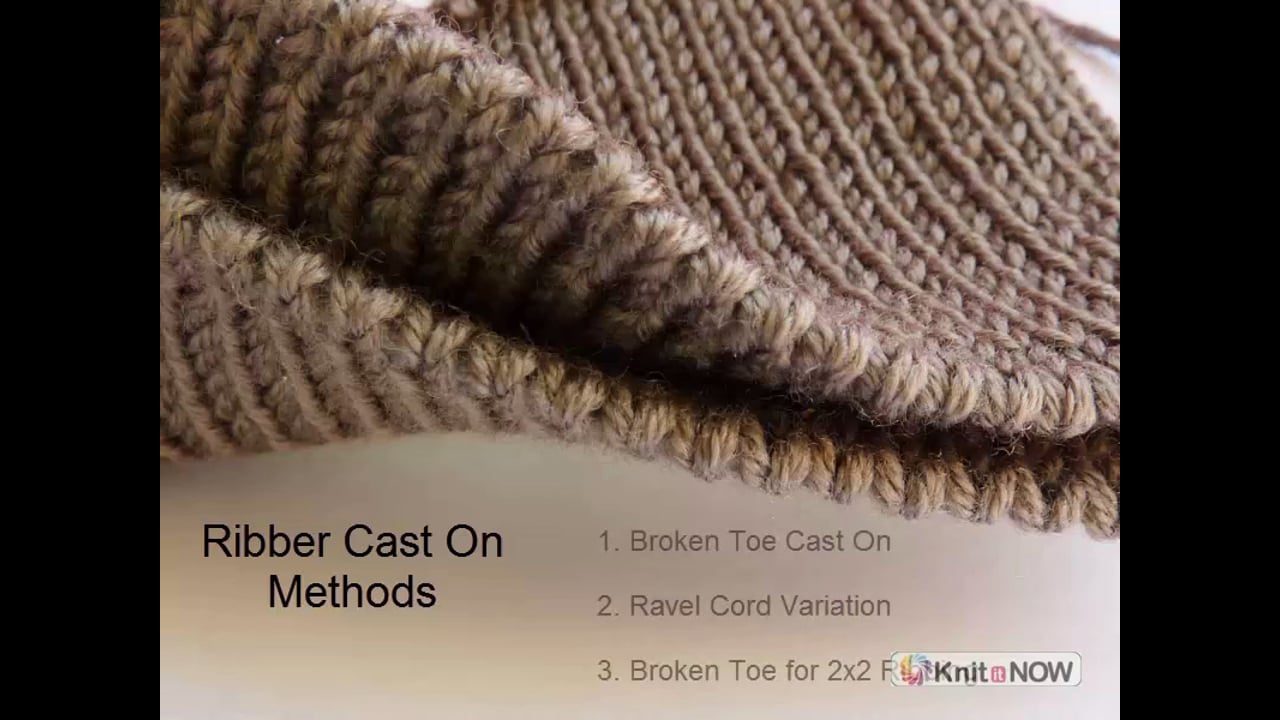 Perfect Ribbing Cast on
---
You must be logged in to add your comments
2 COMMENTS
Just had an opportunity to explore the revamped site. It is certainly way easier to navigate and I absolutely love the machine information...soo clear with diagrams etc and when I want to try something it is a great way to check that I have everything set up correctly. Josephine Donohe
---
absolutely loving your new site! Makes everything so easy to find. Thank you both for the excellent job you do for us. Jean Schwan
---