About the Brother KH260
The Brother KH260
is the last punchcard bulky (9mm) machine that the Brother company produced. It is a workhorse of a machine with everything you need to create beautiful bulky weight knitting.
Brother added electronics to their next model, the
KH270
.
Although new machines are no longer being made by Brother, currently a clone of this machine is being produced by
Taitexma (TH260)
Also because of it's popularity, used machines can be found and they are a great investment for knitters looking for a versatile bulky machine.
Master the machine
Our newest course is a deep dive into using this machine,
including a tutorial for the KL-116 Knit Leader | Charting Device
(full-size charting device)
This new course is the first in a planned series of machine-specific courses.
Stay tuned!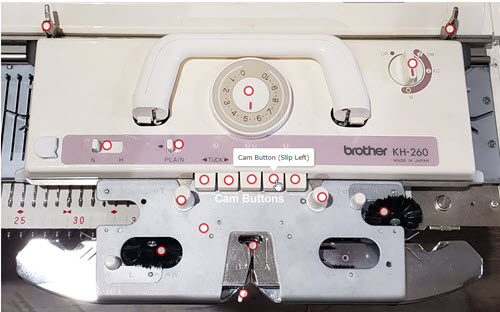 The Manuals
When using any knitting machine, having the manual is essential. Download the free documents for this machine:
Yarn for the Brother KH-260
I Highly Recommend This Machine
OK, I may be biased. This was my 2nd machine purchase. After starting with a standard gauge machine, I quickly realized that most of my stash yarn was too heavy for my Brother 970. Plus I was tired of playing with the electronics and wanted a more "simple" machine.
I've been pleasantly surprised over the years at the wide range of yarns I can knit with my 260 and with all the possibilities including
Plaiting
and
Knitweave
.
In addition, having the full-size KnitLeader has been a good alternative for me.
Using the available intarsia carriage and color changer can add even more fun to using this machine.
If you have a Brother 260 (or a Taitexma TH260) I suggest taking the Brother 260 Quick Start course to put to work all the possibilities with this machine.
---
You must be logged in to add your comments
2 COMMENTS
stenterprisebd a
Feb 7, 2022
Thanks
---
Excited to start this course, as I have a 260 model with a KnitLeader. Of note, I have found that the Staedtler brand Lumocolor non-permanent pens work great on the mylar sheet. These pens come in a pack of four colors (read, blue, green & black)and easily wash off with water.
---