Taitexma TR260L Ribber Attachment Taitexma Knitting Machines
The extended bed Taitexma machines are special ordered from Taiwan. Plan for at least a 10 week lead time.
Contact us for up-to-date arrival times.
Reserve yours today
Questions?
Are you ready to expand your machine knitting skills?
Take a second needlebed, turn it 180° and you'll have both knit and purl stitches.
This ribber fits the
Taitexma TH260L EXTENDED BED bulky punchcard machine
US Warranty: 90 Days labor on defects in materials and workmanship.
Non-US Warranty: 30 days parts and labor
Learn more about ribbers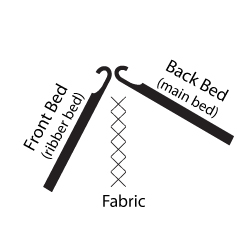 ---