Pencil And Paper Charting 1
14 minutes
Writing your own knitting patterns isn't hard and shouldn't be intimidating. It's a skill that every knitter (hand or machine) must have.
Pattern writing may not be your cup of tea, but don't be left in the dark about how it's done. The knowledge learned here not only help you understand the process, but it will give you the freedom to modify knitting patterns to make them your own!
This course uses graph paper and minimal math to visually chart various parts of a knitting pattern.
14 minutes
GOALS OF THIS COURSE:
After completing this course, you will be able to:
Understand the methods of charting simple knitting patterns, without software
Write a pattern for a basic rectangular shape based on your gauge for scarves, blankets, etc.
Chart a V-neckline change the shape or alter the depth of a pattern's neckline.
Customize any pattern with shoulder shaping
Intro to Pencil and Paper Charting
Knowing how to chart simple shapes is critical for all knitters. Take baby steps with this introduction.

Learn how to determine how many stitches to cast on and how many rows to knit for a simple scarf, blanket or rectangular shape.
Pencil and Paper Charting - A Basic Sweater
Get started charting a basic garment shape. This tutorial will walk you through step by step.

If you have some experience, don't skip these exercises, you'll build on the knowledge gained here.

Included are practice sheets (and answers) to test yourself.
Pencil and Paper Charting - V Neck
Charting without software, we continue the basic sweater shape started in the previous tutorial.

We'll calculate the position of the neck opening and shoulder shaping, then calculate a V-neck using 2 different methods (one method uses NO MATH!)

Choose your method to complete the printable bonus exercises in this lesson.
Pencil and Paper Charting - Shoulder Shaping
Adding shaped shoulders to sweaters adds a professional finish.
This lesson finishes up our basic sweater and gives you even more practice in the basics of charting. We discuss modifying existing patterns, giving you tools to personalize knitting patterns.

All the techniques learned to date can be applied to more complicated shapes.
Sorry this course is no longer available for sale
15 paged study guide included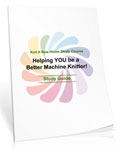 Receive access to the Home Study Guide and all Bonus Materials with the purchase of this course.