Ribber Basic Bootcamp
over 2 hours
If you've never used your ribber, or you've never used it for more than 1x1 ribbing, this course is for you!

Open yourself to a whole new world of machine knitting! Create gorgeous fabrics, learn to knit in the round and challenge yourself with techniques that will make you look like a pro!

Think of using your knitting ribber as using 2 knitting machines. Can you tuck and slip and work short rows on your machine? Then you can do these things on the ribber.

The clear, detailed, step-by-step tutorials walk you through mastering your ribber and will re-ignite your passion for your knitting machine!


Setting Up Your Ribber
Watch as we attach our ribber. Yours may be different, but the concepts are the same. It's easy, don't be intimidated by confusing instructions translate from Japanese.
Easiest, Best Ribber Cast On
Casting on with your ribber can be intimidating. Have you followed the instructions with your machine and not been happy with the results? Are there too many steps to remember?

Here's an easy to remember cast on that's not only fast, but it's versatile and can be used for 1x1, 2x2, 5x5, or any stitch combination. In addition, it has plenty of elasticity for armholes, neckbands ... anywhere you want stretch.

Quick, easy, fast, stretchy, versatile, pretty Ribber Cast On .. what more could you want?
Swatching on the Double Bed
Swatching for a double bed fabric is the same as swatching single bed fabrics.

The goal is to mark a specific number of stitches and rows in the middle of the knitted piece to accurately measure your gauge.

Here are some tips for perfect double bed swatches ... no matter what stitch pattern you choose.
Easy Ribber Bind Off
This is an easy bind off, finished on the machine, that requires no hand sewing with a tapestry needle to complete.

This tutorial assumes that you have basic knowledge of the ribber and can cast on and knit 1 x 1 rib.
Double Bed Bind Off
How to bind off when working full needle rib, double bed jacquard, tuck rib or any double bed fabric. Use basic skills for a professional finish.
Troubleshooting Tips - Ribbing
Oops! Mistakes happen ... practice ripping out rows, re-positioning the carriages and fixing jammed carriages when knitting with your ribber.
Ribber Weights on the Floor?
When you are knitting longer pieces like scarves and blankets, you will reach a point where the ribber comb and weights will hit the floor.

It's critical that you maintain weight on your knitting when working with the ribber. if not, those stitches can pop right off and you'll have a mess.

Here's a quick tip for when you are doing double bed work.


Circular (Tubular) Knitting
If you have a ribber, you can set your machine to knit in the round and eliminate seaming tubular pieces. Yes, there are some limitations, but this technique is very useful for a number of applications.
What about quickly knitting hats and caps without a seam?
Knit socks in the round
You can even knit the body of a plain garment to the armholes, then split the fronts and backs and knit them on the single bed.
This tutorial assumes you are familiar with setting up and knitting full needle rib. Check your manual for tubular knitting settings for your machine.
Half Circular U-Knitting
This variation of Circular (tubular) knitting leaves one edge open and creates a very wide fabric. Imagine knitting a piece that is double the width of your needlebed!

Master the use of the slip setting on your carriages and give half circular knitting a try.
Matching Ribber and Main Bed Tension
Your main bed tension dial shows 1-10 and your ribber tension can be set 1-8. The goal is to have perfectly matching ribbed stitch fabrics, with even stitches on both beds.

What setting is best for YOUR machine?
Double Bed Pintucks
A nice edge on cuffs or the bottom of a jacket. Knitting full needle rib pintucks is a snap! One carriage setting and you can add texture and interest to your garments.
Full Needle Rib Cast On Techniques
Full Needle Rib Cast on is the basis for starting many ribbed fabric techniques. Learn 2 methods plus a tip for a perfect edge.
100% Reversible Scarf
Use the full needle rib (FNR) technique to create a striped, reversible scarf. This tutorial includes tips for changing colors without a color changer, hiding the yarn strands when changing colors and finishing tips.
Fun with Flat Ribs
Do you love the look of both knit and purl stitches? Do you love the look of ribbing, but don't need or want the stretch?

Maybe your yarn isn't suited for ribbing, but you still want the texture ....

Flat Ribs are the answer!

Using the full needle rib setup as the basis, flat ribs fabric and hems have unlimited possibilities!

This video introduces you to the technique. The follow up video takes you step by step to mastering it.

You won't look at "plain 'ol" ribbing the same way again!
Fun with Flat Ribs Part 2
Flat ribs are a serious knitter's staple technique. Follow along as we challenge you with 6 different flat rib configurations.

You can view images all day long, but it isn't until you knit, feel and work with flat ribs that you will appreciate their beauty.

If you aren't familiar with this technique of creating beautiful hems, trims and all-over fabrics, view part 1 for lots of samples to inspire you!
3 Perfect Ribbing Cast Ons
Have you ever been disappointed with 1x1 ribbing cast on? Here are 3 ribber cast on methods that are sure to please.
1x1 Ribbing Decrease Techniques
Here are 2 methods for decrease when working in 1x1 ribbing.
1x1 Ribbing Increase Techniques
Here are 2 methods for increasing when knitting 1x1 ribbing. Which do you prefer?
2x2 Ribbing Cast On
Have you struggled with casting on for 2x2 rib? There are a lot of steps involved and knitting machine manuals can be confusing.
Let's walk through the steps for creating a traditional 2x2 rib cast on, create a cheat sheet and never hesitate to use this needle arrangement again!
2x2 Ribbing Simple Decrease
Working a simple decrease when knitting 2x2 ribbing is fast ... but do you like the results? Compare this simple decrease technique to the full fashion decrease method.
Work increases in 2x2 ribbing with minimal muss and fuss. Apply this technique to 3x3, 5x5 or any rib setup.
2x2 Ribbing Simple Increase
Work increases in 2x2 ribbing with minimal muss and fuss. Apply this technique to 3x3, 5x5 or any rib setup.
2x2 Ribbing Edge Bind Off
Work a neat bind off along the edge for armhole or necklines when working in 2x2 rib.
2x2 Full Fashion Ribber Decrease
Working full fashion decreases for 2x2 ribbing creates a beautiful edge. Practice shaping with ribbing and don't hesitate to use ribbed fabric for garment pieces.
2x2 Full Fashion Ribber Increase
Working full fashion increases in 2x2 ribbing creates a beautiful edge. Practice shaping with ribbing and don't hesitate to use ribbed fabric for garment pieces.
2x2 Half Pitch Rib Cast On
2x2 half pitch ribber cast on produces a beautiful rib that doesn't pull in as much as standard 2x2 ribbing and is softer to wear. The cast on is a combination of full needle rib and 2x2 cast on.
Watch as we walk through the steps to create this "other" 2x2 cast on.
2x2 Edge Bind Off
Create neat edges when shaping garment pieces by binding off. Incorporate the needle arrangement when binding off for best results.
Full Needle Rib Decreases
The methods for decreasing full needle rib are quite straightforward. Will you be seaming the edge? Do you want both the public and private sides to look alike? Practice the 3 techniques shown to sharpen your skills.
Full Needle Rib Increases
Here are 3 methods of increasing when working double rib or full needle rib. Good - Better - Best which one do you prefer?
Experiment with English Rib
Is your ribber just gathering dust? Can you knit 1x1 rib? With just one small change, you can knit this beautiful, textured, wide fabric.

Soft and comfy, English rib (half Fisherman Rib, tuck rib)can be used for sweaters and accessories. It's stretch and honeycomb texture offers design possibilities galore!

Practice working the texture on the ribber or the main bed and compare it to normal 1x1 rib. Learn how to have beautiful edges for no-finish knits.
Fisherman Rib
Fisherman rib is a comfortable, stretchy, wide fabric that is simple to knit! Can you knit 1x1 rib? Then you can create this surprising, reversible fabric.
Ribber Belts, Bands and Straps
Using your ribber makes fast work of creating bands and straps. Examine 2 methods that will get your creative juices flowing. Add the perfect finishing touch to your next project!
Purchase This Home Study Course
Price: $49.95
Become a subscriber today and
save 50%
on this course
24 paged study guide included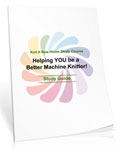 Receive access to the Home Study Guide and all Bonus Materials with the purchase of this course.
This course includes the dynamic pattern
Beginner Ear Warmer