Modify A Set In Sleeve - The Pencil And Paper Way
18 minutes
Never knit a poorly fitting sleeve again!
Your knitting pattern has set in sleeves and the upper arm measurement is not right for you. First, learn how changing the upper arm measurement impacts the shape of the sleeve head. Then learn 2 methods of re-charting set in sleeves for a perfect fit!
BONUS:
Includes Dynamic pattern for creating both mini and full size set in sleeve practice pieces.
GOALS OF THIS COURSE:
After completing this course, you will be able to:
Draft a set in sleeve using mathematical formulas for precision
Chart an accurate sleeve cap using a quick pencil and paper method
Increase / Decrease Upper Arm
Modifying set in sleeves to fit your upper arm measurements can be intimidating. This lesson discusses the impact on the sleeve head when changing the upper arm width.

The concepts covered in this course not only cover modifying sleeves, but will help you in understanding how set in sleeves fit into the armhole of your garment.

Designing set in sleeves in a knitted garment is challenging and often you will find patterns that are poorly written and the sleeves don't fit. Your knowledge of this topic is critical to your knitting garments that fit.


Slash and Spread Method
This NO MATH method borrows a dressmaker 'slash and spread' technique to re-shape a sleeve to enlarge (or reduce) the upper arm measurement.

Walk through the steps to create a chart that can be used for knitting or creating a written pattern for the perfect custom-fit sleeve.

The Practice worksheet "Slash and Spread Method" lets you see for yourself the impact on the sleeve head by changing the width of the sleeve.
Modify Sleeve with Math Part 1
The next part of this series on enlarging the upper arm of a sleeve uses math for precision.

This tutorial walks you through using a mathematical formula for determining the height of the sleeve cap and the magic formula for writing your knitting pattern.

If you love math, or want precision, this is for you!
Modify Sleeve with Math Part 2
This tutorial will finish up charting a modified sleeve using math. After mastering this method, you'll never have a poorly fitting sleeve cap again!

If square roots and algebra aren't your cup of tea, we've included a paper and pencil method that is just as accurate, but much easier!

Put on your thinking cap, pull out your calculator and we'll finish altering the sleeve for a perfect fit!
Purchase This Home Study Course
Price: $19.99
This course is
FREE
with a yearly subscription to Knit It Now
Subscribe Today
10 paged study guide included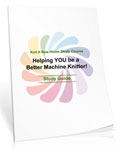 Receive access to the Home Study Guide and all Bonus Materials with the purchase of this course.
This course includes the dynamic pattern
Practice Set In Sleeves