Pencil And Paper Charting 2
9 minutes
Have you ever found a perfect knitting pattern and the neckline is wrong? This course covers charting round necklines. Raise or lower the depth of a neckline. Change a square neck to a round neck.
Whether you use the no-math, pencil and paper method or the traditional mathematical formulas presented, you will have the freedom to knit the neckline style that is perfect for you!
Also included are instructions for shortening or lengthening sleeves. Take the guesswork out of this alteration for a perfect fit.
9 minutes
GOALS OF THIS COURSE:
After completing this course, you will be able to:
Change any neckline to a round neckline
Modify a round neck pattern to suit your taste
Modify the length of a sleeve. Create long sleeves, 3/4 or short sleeves for your next project.
Pencil and Paper Charting - Round Neck
Have you ever found a knitting pattern that you love, but the neckline was too high or way too low?

This tutorial covers 3 methods of charting a round neckline with minimal math.
Pencil and Paper Charting - Sleeve Length
If you find that the sleeve measurement of a pattern is too long or short for you, it's not difficult to recalculate the shaping instructions. This lesson will introduce you to the Knit it Now taper tool PLUS walk you through the pencil and paper calculation for lengthening or shortening a sleeve. This information is invaluable to knitters and can be applied to skirts, sweaters, and many other areas of your knitting.
Purchase This Home Study Course
Price: $9.99
Become a subscriber today and
save 15%
on this course
10 paged study guide included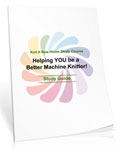 Receive access to the Home Study Guide and all Bonus Materials with the purchase of this course.