Top Down Raglan Sweaters
22 minutes
View Free Sample Of This Home Study Course
Learn how to knit your own top down sweaters based on the patterns in
Jodie Raymond's series of books
for machine knitters.
Top down sweaters are fast and fun to knit! - They give beginners the instant gratification of using newly learned skills and knitting a finished garment quickly.
The course is a start to finish series of videos that demonstrates shaping raglan sleeves, the front neck and joining the sleeves with a sew-as-you go method.
A pattern for a small practice sweater is included in the course.
BONUS Included are 3 tutorials from the Knit it Now Learning Library:
- Basic Ribbing without a ribber
- Full Fashion Decreases
- Easy Ribber Bind Off (Stafford Bind off that Jodi describes in the books)

With Jodie's original instructions, Knit it Now's updated version and the videos, you will be knitting your own top down raglans in no time!
The original pattern books are available for immediate download and offer a wide range of choices - standard or bulky, men, women, kids and babies, round and v-neck styles. They can be purchased
here
Introduction
Follow along as we use the included sample sweater pattern and knit the back. The shaping is pretty straight forward. You will establish the pretty eyelet seam and prepare for the sew-as-you-go joining of the sleeves.
4 minutes
Front Neck Shaping
The front neck of the raglan practice sweater is shaped with short rows. Knitting this from the top down can be a bit tricky.

Watch as we walk through the shaping step-by-step.

Once you see the techniques, you'll be ready to tackle any size raglan sweater!
6 minutes
Sleeves and Finishing
Finish up your practice sweater by knitting the sleeves. Join the sleeves and the body pieces while you knit.

Stitch up the side seams and Viola! you are done!
4 minutes
Full Fashioned Decreases
Full fashioned decreases leave a smooth edge on your knitted pieces, making seaming easier. Shown are 2 methods you will use.
2 minutes
Basic Ribbing without a Ribber
Without a ribber, knitting knit and purl stitches on a flat bed machine takes a bit of work. By re-forming individual stitches you can include purl stitches in your knitting to create ribbing, textured stitch patterns .. even cables.

Improve your knitting with hand manipulated ribbing. It takes a bit of patience and comfort with your tools, but the extra effort is well worth it!
2 minutes
Easy Ribber Bind Off
This is an easy bind off, finished on the machine, that requires no hand sewing with a tapestry needle to complete.

This tutorial assumes that you have basic knowledge of the ribber and can cast on and knit 1 x 1 rib.
Sorry this course is no longer available for sale
22 paged study guide included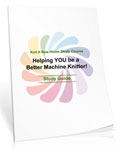 Receive access to the Home Study Guide and all Bonus Materials with the purchase of this course.